English version below
Testo di Marina Silvello —
Mentre la 59ª Biennale di Venezia apriva le porte per la sua attesissima e glitterata preview, sull'altra sponda della laguna, in quella che una volta era considerata la periferia della città, un'altra preview, più silenziosa e domestica, si svolgeva. Spostandosi per l'occasione dal circolo polare artico alla laguna veneziana, il 19 aprile 2022, LIAF – Lofoten International Art Festival ha presentato Something Out of It, il progetto espositivo curato dal duo italiano Francesco Urbano Ragazzi, che annunciava i temi della 17a edizione della biennale delle isole Lofoten attraverso due progetti.
Il primo si è svolto nel parlatorio della Casa di Reclusione Femminile dell'isola della Giudecca, dove oggi vive una comunità di sessanta detenute. Ribaltando la logica spettacolare ed esclusiva delle biennali d'arte e invertendo le gerarchie istituzionali, l'artista Pauline Curnier Jardin (Marsiglia, Francia, 1980) ha reinventato la stanza del parlatorio del carcere in collaborazione con le sue ospiti, committenti e uniche beneficiarie dell'opera. L'artista e le detenute hanno trasformato la stanza in uno spazio rituale e di incontro, decorandolo con arredi e dipinti murali, frutto di una serie di laboratori e sessioni di disegno resi possibili dalla collaborazione con la cooperativa sociale Rio Terà dei Pensieri e il collettivo di artisti veneziani Casablanca Studio.
Il parlatorio ospitava inoltre Adoration, un nuovo film dell'artista sviluppato attraverso un processo di scrittura collettiva che ha coinvolto le detenute. Il suono di alcune campane annunciava l'inizio della proiezione, quasi si trattasse di una santa messa, ma era la voce di una prigioniera a parlare. E proprio attraverso questa voce, intima e delicatissima, i segreti di quel luogo che non si apre mai completamente venivano svelati. Da sempre abitato da sole donne, prima di diventare un istituto penitenziario, dal XVI al XIX secolo l'edificio era adibito a monastero. Nel convento delle Convertite, così si chiamava, per 500 anni le prostitute della città o, così come erano definite, "le peccatrici più belle del paese", venivano rinchiuse e costrette a prendere il velo. Eppure, un evento speciale accadeva proprio in quel parlatorio. Durante il Carnevale, quello spazio diventava infatti palcoscenico di alcune commedie laiche, nelle quali queste donne, dalle molte facce, partecipavano travestite da uomini o preti, acclamate dal vasto pubblico dell'alta società veneziana.
Al termine della storia, il video proseguiva alternando canti religiosi di monache a disegni di occhi che piangono, foto sfocate ritraenti le detenute in impermeabili laccati a immagini di suore danzanti dai tanti volti e dalle molte braccia.
Oggi il parlatorio appartiene alle detenute che celebreranno eternamente tutte le donne delle Convertite: prostitute, suore, attrici, prigioniere. In fin dei conti, nessuna di loro è entrata in quel luogo di sua spontanea volontà.

Il programma di preview di LIAF 2022 proseguiva nel sestiere di Castello, dove una nuova installazione di Tomaso De Luca (Verona, Italia, 1988) prodotta in collaborazione con CASE CHIUSE di Paola Clerico invadeva un altro ambiente domestico, quello diCasa Venezia, residenza dei collezionisti Massimo Adario e Dimitri Borri.
L'indagine di De Luca sulla crisi del modernismo e della sua promessa di una vita funzionale per tutti prende spunto questa volta da un fatto di cronaca realmente accaduto: nel febbraio 2019 a Philadelphia, un immobiliarista sfugge a una ghigliottina amatoriale nascosta in una delle sue proprietà e progettata per ucciderlo dagli inquilini del palazzo.
Attraverso un'ingegnosa collezione di boccaporti, ghigliottine, pareti mobili, pesi in caduta libera, pavimenti chiodati e porte girevoli, l'artista ha trasformato la casa sicura ed esatta dei collezionisti-architetti in un luogo insidioso, costellato di elementi che ne destabilizzano l'usuale percezione di sicurezza. Le trappole domestiche che appaiono in Desperate Times, video proiettato nell'oscurità della sala principale dell'androne, sono riproposte attraverso una serie di sculture di vario formato disseminate nella casa. Alcune, piccolissime, sono disposte in una teca. Altre invece, di più grandi dimensioni, occupano il percorso espositivo: una stampella a cui sono state attaccate delle lame affilatissime è posta sulla scalinata del giardino interno, bloccando chiunque si appresti a salire; un'altra trappola si trova in una camera da letto che, interamente rivestita da enigmatiche piastrelle di ceramica nera e verde, sembra il luogo perfetto per organizzare un delitto di cui non si vuol lasciare traccia. Altri due piccoli ambienti rivestiti in ceramica si susseguono in questo spazio ambiguo e poco familiare, dove sono riprodotte alcune diapositive ritraenti il corpo deformato dell'artista nell'atto di scattarsi delle foto sulle superfici riflettenti della casa.
L'installazione di De Luca sfata così il mito del comfort modernista, trasformando la casa in un luogo insidioso, dove mobili e oggetti di uso quotidiano sono trasformati in trappole potenzialmente letali. Ancora una volta, le opere di De Luca si pongono come defezioni al canone progressista, rappresentando strategie attive di sopravvivenza contro le dinamiche economiche sempre più brutali e i processi di gentrificazione a loro collegati.
In un periodo storico dove le conseguenze della globalizzazione pongono grandi sfide per le biennali artistiche internazionali, alcune domande specifiche emergono riguardo alla loro sostenibilità e responsabilità: quali valori le biennali creano localmente, e quali contenuti dovrebbero emergere dal concetto di "internazionale" se inserito in un contesto locale? Riesce davvero il modello della biennale, molto spesso operante da un punto di vista occidentale, ad accomodare le diversità della contemporaneità?
Ampliando il pubblico destinatario e mostrandoci opere private, permanenti e site-specific, che non possono essere mercificate o possedute, Something Out of It ci fa riflettere sui sistemi di produzione delle biennali e propone un nuovo modello di inclusione e sostenibilità. Instaurando una nuova alleanza tra arte e realtà, LIAF 2022 si presenta, come dichiarano i curatori, attraverso "quell'opera d'arte pubblica intermittente che è lo stare al mondo".
Something Out of It
Pauline Curnier Jardin alla Casa di Reclusione Femminile della Giudecca
Tomaso de Luca a Casa Venezia, Castello
Press Preview: 18-24 aprile 2022
A cura di Francesco Urbano Ragazzi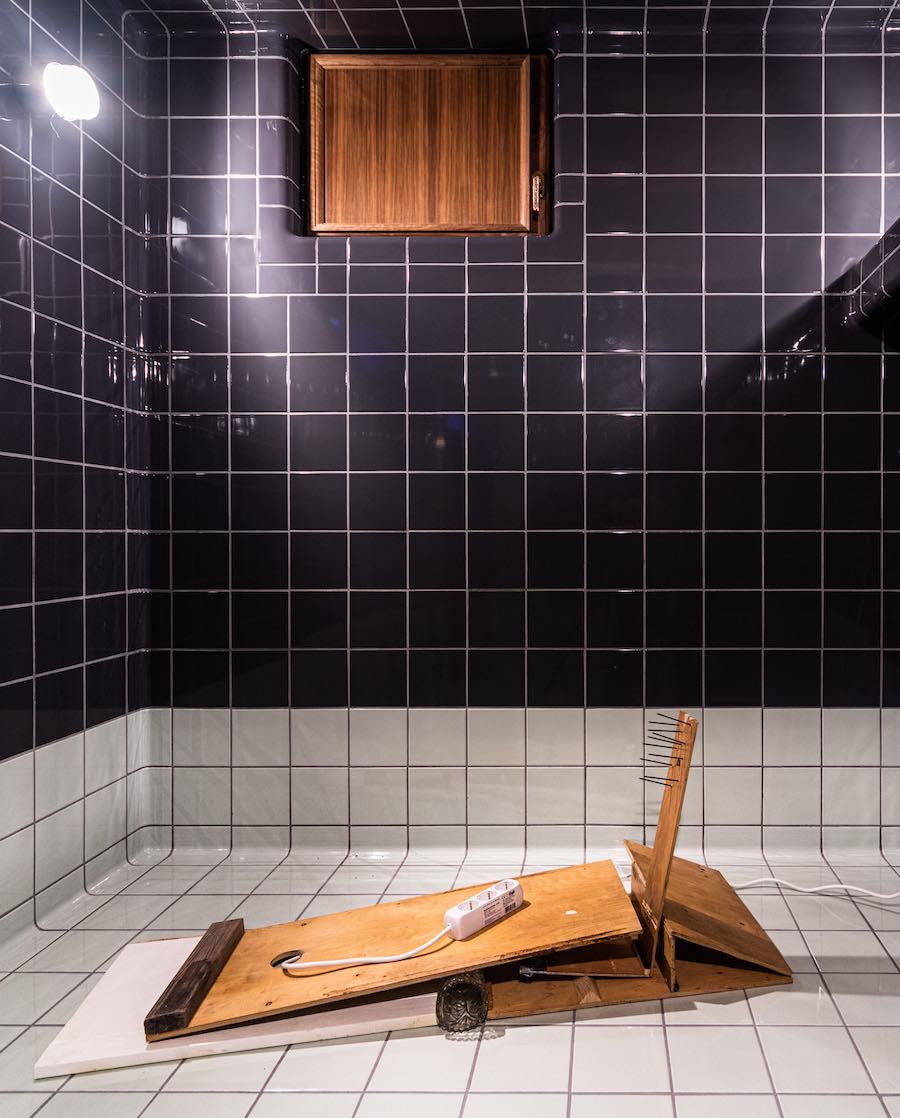 Something Out of It | Lofoten International Art Festival 2022
Text by Marina Silvello —
While the 59th Venice Biennale was opening the doors of its highly anticipated and glossy preview, on the other side of the lagoon, in what were once considered the outskirts of the city, another preview, more silent and domestic, was taking place. Temporarily uprooted from the Arctic Circle to the Venetian lagoon, on 19 April 2022, LIAF – Lofoten International Art Festival presented Something Out of It, the preview exhibition curated by the Italian duo Francesco Urbano Ragazzi, which announced the curatorial themes of the 17th edition of the Biennial of the Lofoten Islands through two projects.
The first took place in the parlour of the women's prison on the island of Giudecca, where today a community of sixty inmates lives. Reversing the spectacular and exclusive logic of art biennials as well as institutional hierarchies, the artist Pauline Curnier Jardin (Marseille, France, 1980) has reinvented the prison's parlour room in collaboration with its guests, commissioners and only beneficiaries of the artwork. The artist and the inmates transformed the room into a ritual space, decorating it with furniture and wall paintings, result of a series of workshops and drawing sessions made possible by the collaboration with the social cooperative Rio Terà dei Pensieri and the collective of Venetian artists Casablanca Studio.
The parlour also hosted Adoration, a new film developed by the artist through a collective writing process that involved the inmates. The sound of bells announced the beginning of the projection, almost a holy mass, but it was the voice of a prisoner to speak. Precisely through this intimate and pure voice, the secrets of this place, which never completely opens, have been revealed. Always inhabited by women, before becoming a penitentiary, from the sixteenth to the nineteenth century the building was used as a monastery. In the convent of the Convertite, so it was called, for 500 years the prostitutes of the city or, as they were defined, "the most beautiful sinners of the country", were locked up and forced to take the veil. Yet, a special event happened in that very parlour. During the Carnival, that space became in fact the stage of some secular comedies, in which these multifaceted women used to act disguised as men or priests, and were acclaimed by the large audience of Venetian high society.
At the end of the story, the video continued alternating religious songs with drawings of crying eyes, blurry photos portraying the prisoners in lacquered trench coats with images of dancing nuns with multiple faces and arms.
Today the parlour belongs to the inmates who will eternally celebrate all the women of the Convertite: prostitutes, nuns, actresses, prisoners. After all, none of them entered that place willingly.
LIAF 2022 preview program continued in the Castello district, where a new installation by Tomaso De Luca (Verona, Italy 1988) produced in collaboration with CASE CHIUSE by Paola Clerico invaded another domestic environment, that of Casa Venezia, residence of collectors Massimo Adario and Dimitri Borri.
De Luca's investigation on the crisis of modernism and its promise of a functional life for all takes its cue from a news story: in February 2019 in Philadelphia, a real estate developer escapes an amateur guillotine hidden in one of his properties, and designed to kill him by the tenants of the building.
Through an ingenious collection of hatches, guillotines, movable walls, free-falling weights, spiked floors and revolving doors, the artist has transformed the safe and meticulous house of the collectors-architects into an insidious place, dotted with elements that destabilise the usual perception of security. The domestic traps that appear in Desperate Times, the video projected in the darkness of the main hall, are reproduced through a series of sculptures of various sizes scattered throughout the house. Some, very small, are arranged in a case. Others, of larger dimensions, occupy the exhibition path: a crutch with very sharp blades attached to it is placed on the staircase of the internal garden; another trap is in a bedroom that, entirely covered with enigmatic black and green ceramic tiles, seems the perfect place to set up a crime you don't want to leave a trail of. Two other small rooms covered in ceramic follow one another in this ambiguous and unfamiliar space, where are reproduced some diapositives depicting the artist's deformed body in the act of taking pictures on the reflective surfaces of the house.
De Luca's installation thus dispels the myth of modernist comfort, transforming the house into an insidious place, where furniture and everyday objects are transformed into potentially lethal traps. Once again, De Luca's works act as defections to the progressive canon, representing active survival strategies against the increasingly brutal economic dynamics and the gentrification processes associated with them.
In a historical period, where the consequences of globalisation pose great challenges for international art biennials, some specific questions emerge regarding their sustainability and responsibility: what values biennials create locally, and what content should emerge from the concept of "international" if placed in a local context? Can the model of the biennial, often operating from a Western purview, really accommodate global diversity?
By expanding the target audience and showing us private, permanent and site-specific works that cannot be commodified or owned, Something Out of It makes us reflect on the production systems of biennials and proposes a new model of inclusion and sustainability. Establishing a new alliance between art and reality, LIAF 2022 presents itself, as the curators declare, through "that intermittent public artwork that is being in the world".
Something Out of It
Pauline Curnier Jardin alla Casa di Reclusione Femminile della Giudecca
Tomaso de Luca a Casa Venezia, Castello
A cura di Francesco Urbano Ragazzi