Interview by Roberta Mansueto —
Last June 28th in Lecce opened a new space dedicated to contemporary art with a solo show of ektor garcia: Progetto – its name – in the heart of the baroque city, will welcome international artists for short residences and an exhibition, in open dialogue with this land and its history.
Roberta Mansueto: When and how did you come up with the idea of ​​moving from America to the south of Italy and opening a "project" space? What kind of project did you conceive?
Jamie Sneider: I originally wanted to live/work in Puglia part of the year as an artist (I didn't fully move here, I will be back and forth to the States), as some of my practice and research is influenced by the region. As a sub-interest, I am curious about the architecture in Puglia and the various spaces in the region, and that is when I began to think about opening a space here for other artists. Last year I fully decided that I would open an experimental contemporary art project space. I am coming to the world of running a contemporary art space primarily as an artist.
I curated evenings of performance; organised a video group in my MFA program; worked for other artists; and created printed matter, but I've never opened a space with a program.
I think of Progetto as a hypothesis that can and will change overtime.
RM: The space is in the heart of the city, in the ancient Jewish quarter of Lecce, near the baroque Basilica of Santa Croce and Piazza Sant'Oronzo with its open-air Roman amphitheater. When you reach Progetto it seems like you are going through the whole history, still so predominant in the architecture and places of this city: how does this relate to your contemporary art project? Does the project embrace the idea of bonding with the neighborhood and being open to the already existing art system in Lecce/Puglia?
JS: There are many folds to your question. To begin with, what brought me to Puglia was the history – I had studied Ernesto de Martino, Pier Paolo Pasolini, Antonio Gramsci, Carlo Levi, I was particularly interested in the North/South – somehow it echoed my family's history in another part of Europe but specifically interested in rituals related to mourning, grief, elation, labor and possession dances – mainly performed by women. I started reading anthropological documents about these rituals, which are now very commodified or built into the tourist route, in the same way the Salem Witch history is in my hometown of Boston. History was the original pull. And, Progetto is located in a historical building from the 16th century in an ancient Jewish palazzo.
I had incredible support from artists and curators in Puglia. In the beginning, I tried to meet with as many art projects, galleries, schools working in contemporary art and express my idea for a project space. I feel that Progetto is part of a community and we reciprocally support each other. Sharing information was always an immediate desire in our conversations. A sort of surrender of ownership. I have an ongoing dialogue with Spazio Murat (Bari); Studio Concreto (Lecce); PIA Studio (Lecce); Like A Little Disaster (Polignano a Mare), and other Apulian artists and curators.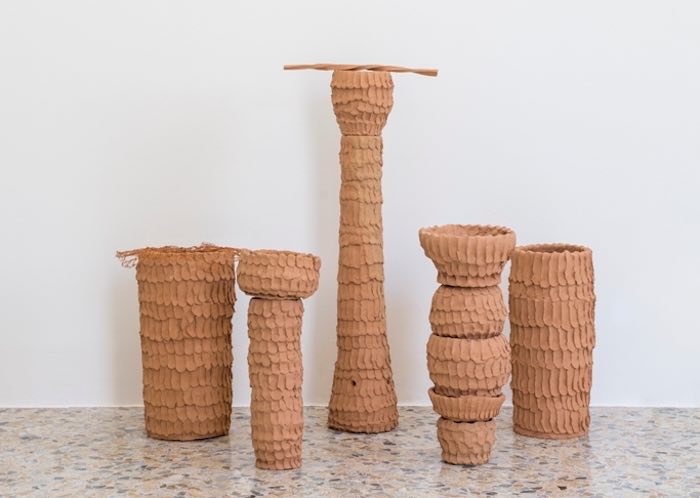 RM: Progetto opens with the exhibition fortaleza by ektor garcia (open until August 31st). The works on display constitute a material landscape that reflects / meditates on places, practices and traditions of Puglia too: through the use of terracotta and ceramics, through the creation of karstic landscapes and the crochet work. How did this residence and these places influence garcia's work?
JS: In my studio visit with ektor in NYC, we spoke about his parents and grandparents who were born in Mexico; the ranch they owned; the landscape and flora; the handmade artisan traditions like crochet, ceramics and metal work; and the music – much of it echoed traditions in Puglia. I felt there could be an interesting crossover for ektor to work and live here. ektor had never been to Italy before this residency and exhibition. There are 4 large gallery spaces to use as studio and living. He crocheted in the space at Progetto, and an artist named Enrico Tramacere was kind enough to let ektor work in his ceramic studio in Cutrofiano (Lecce).

RM: What is the planning for Progetto? Any anticipation on the upcoming activities/shows?
JS: There will be a catalogue of the first season, Progetto I. It will feature the work of ektor, and the September and October exhibitions.
An amalgam of influences:
– Pasolini writings and films
– Antonio Gramsci's Southern Question
– Performative possession dances and mourning rituals
– My grandparents from Lithuania and Belarus / manual labourers, factory workers and farmers
– In my own work there the tension between nature and the civilised industrial world – my father symbolised the first generation American eschewing his immigrant past and going toward progress.
– The drive from Matera in November, first time to Puglia, miles of olive trees; smell of burning; shephers; isolation
– Carlo Levi's, Christ Stopped at Eboli
– Writings of Silvia Federici
– Gianfranco Mingozzi's film, La Taranta
– Ernesto de Martino's, The Land of Remorse
– Field music recordings of ethnomusicologists Diego Carpitella and Alan Lomax
– I worked an olive harvest at a masseria