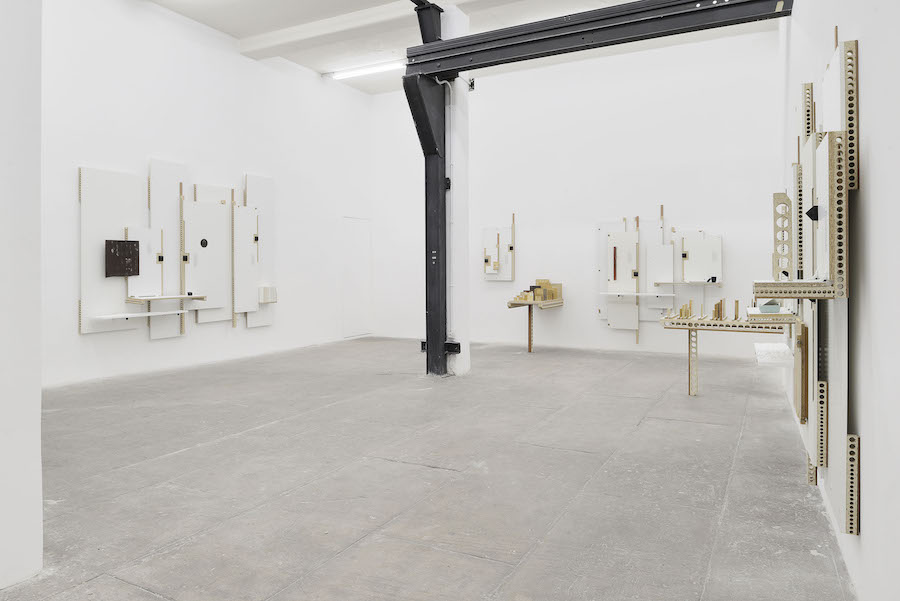 Interview by Costanza Savelloni —
The Sceptical Structure of Max and Kuedza Mudzimu nesengere are the titles of the two exhibitions currently on show at T293, by James Beckett and Tendai Mupita respectively.
For this double solo show, the gallery selected two very different artists whose common denominator is in their roots. Both born in Zimbabwe, James Beckett and Tendai Mupita work with different media but share a common goal: to entice the spectator to meditate, one on the mechanisms of Western society; the other on the vast interior and concrete space of the African landscape. The result is a crammed, synergic and powerful dialogue, which tears directly into the spectator.

We interviewed James Beckett, multifaceted and multi-referential artist who takes us on a journey through the life of Max Himmelheber, engineer-entrepreneur and pioneer in the development of chipboard. Beckett's oeuvre highlights various stages of chipboard development over time and uncovers the sinister events behind what seemed like a stroke of genius for the nascent environmental movement. The result is a nostalgic, metaphysical and almost grotesque assemblage of abandoned pieces, then salvaged by the artist, which entices us to reflect upon the mechanisms of consumption in our society.

On show until 31 July 2020.
Costanza Savelloni: "The Sceptical Structures of Max" is your fifth solo show in the T293 spaces, with which you've been collaborating for over 10 years. How did your partnership begin?
James Beckett:I believe it was back in 2006, when Marco Altavilla of T293 contacted me in light of collaboration. Marco had been studying sound art, or was at least fascinated, as I was too. The works we first showed were in Naples, and were the residue of these interests, and specifically the making of inventories. The show was called "Living Registration' for this purpose and featured several pieces, which flirted with absurd means of registering behavior of both the natural world and the built environment.
The most embodying piece of the show was a series of tartan ties, made from a tartan that I designed and produced in Scotland. Tartans originally serve as rough marking of clans, families and districts. Here the spacing, colours and thickness of the lines of the tartan pattern were tabulations from digestive experiments by William Beaumont "Father of Gastric Physiology" (1785-1853).
CS: We're talking about repurposing, sustainability, reuse and even redemption. The beginning of the story seems quasi-fictional; the creation of the installation reflects, on one hand, on the environmental impact of chipboard; on the other, its reutilization, which confers a new dignity "to disassemble and decontextualise the product of consumption", abandoned and forgotten. How do themes interwoven with the environment and sustainability find a place in your oeuvre?
JB: So yes, these are big words, repurposing, sustainability, reuse and redemption. I use redemption a lot in descriptions of work, already for a while now – perhaps a little too loosely. In an environmental sense, to redeem is a bit of a paradox, as of course humanity is the instigator of the soiled environment. In the classic sense of redemption, there has to be a sin or wrong-doing in order for one to redeem oneself. This would imply that the sinning has ceased, which in the context of the industrialized world is bordering on a farce. For this exhibition I explore the biography of Max Himmelheber, who had a dynamic life, as a kind of allegory. His wealth was based on the prototyping of a range of chipboard materials, then their production. As an early environmentalist, he sought to enact frugality on a mass-scale, from which he made a very handsome living. The patents of these processes resulted in the establishing of factories across the whole world. This facilitated a boom in the use of the material, which is based on the 40% waste from sawmills – a very practical measure in what is a very wasteful civilization. In the end we find chipboard in fact to be a polluting material – for example the base material phenol resin contains formaldehyde, a known carcinogen.
So these kinds of findings featured in "The Sceptical Structures of Max" are quite typical of my industrial research projects. In terms of repurposing, perhaps toward a new dignity, the installation is more of a romantic assemblage or micro-resistance commentary than offering any actual alternative to the chipboard conundrum.
You mention 'quasi-fictional'. The information in this show is all true, but what you are perhaps sensing is the mode of connecting to these histories. The environmental question is important to me, but what I am experimenting with is the forming of a kind of metaphysical relationship to this material evidence, as biographical, or even collective desire. The expansion of affordable furniture has something to do with the democratization of industry, and the ability of every person to realize their sense of self in the neo-liberal context.
This has something to do with the impossibility, or at least difficulty to form meaningful relations to the industrial complex, and hence an alienation. I guess this is also the reason "The Sceptical Structures…" is channeling a Constructivist aesthetic. As a movement, this was a moment to explore and then promote an industrialization of society at large.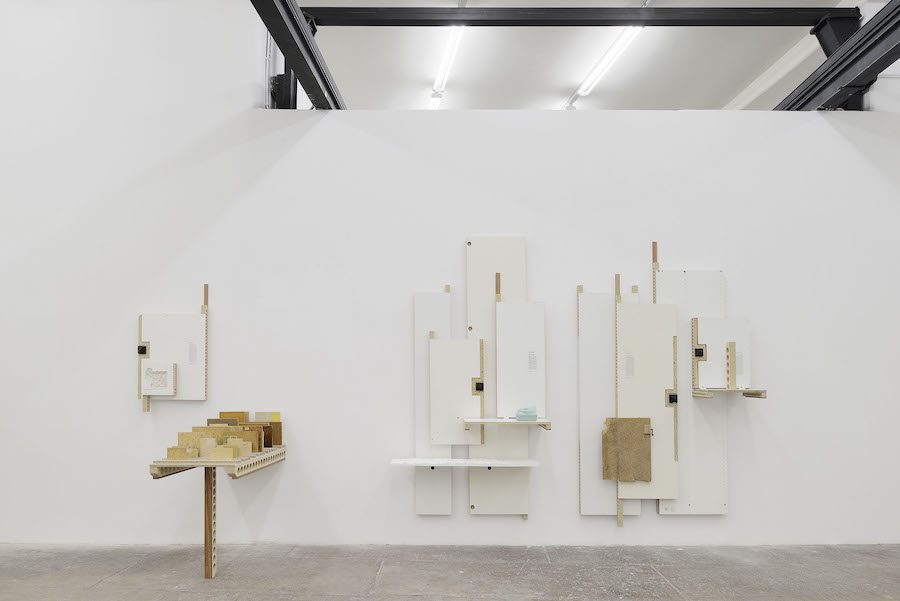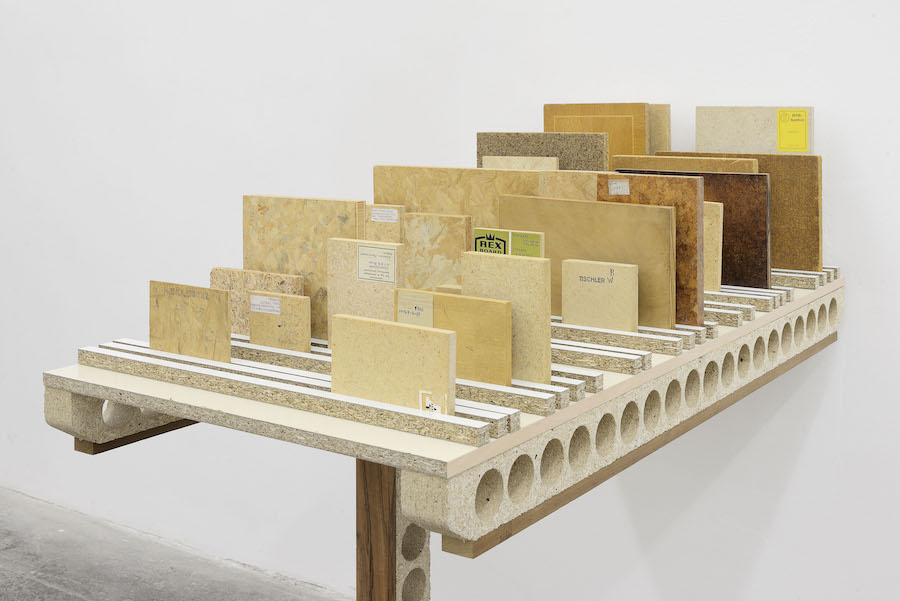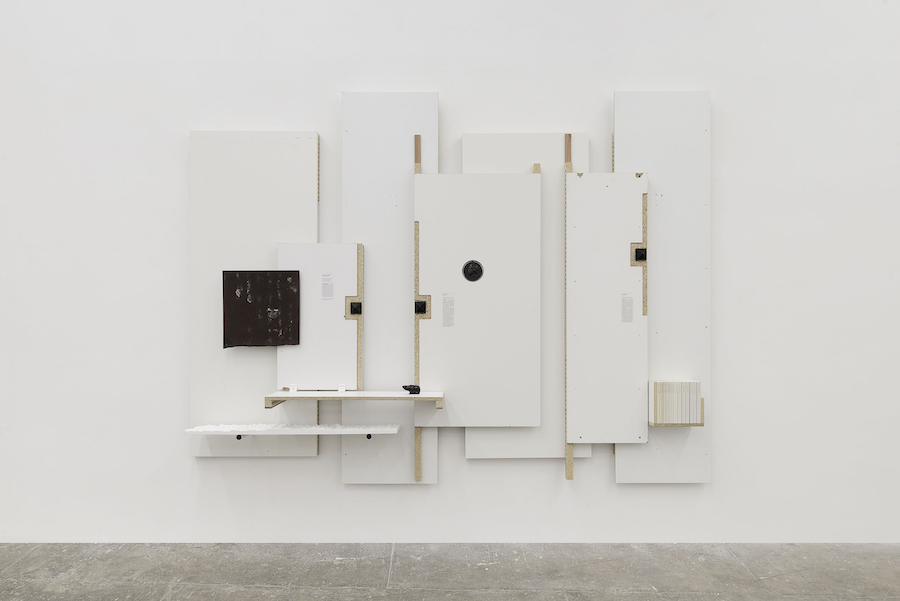 CS: I am interested in the issue of this constructivist aesthetic present within your work. As you said, Constructivism as a movement has contributed to the promotion of an industrialization of society in general.
To use Vittorio Strada's words, Constructivism was a refusal of art, as it did not want to add works to museums, but to build new objects in a new life. Through this process, the constructivists aimed at overcoming traditional art, until reaching the convergence between artistic and industrial production. So we moved from poetic individualism to productive collectivism, from the laboratory to industry, in a total fusion between art and life.
JB: Yes, so the gestures of such movements brought about an active participation in the re-design of society, along with all its products and larger infrastructure (or at least their translation into the 20th century). Constructivism also made huge contributions to the nature of design in advertising – they were in fact flirting with the origins of consumer culture. In this sense they were building as much a storefront for factories as breaking down the walls of museums – pragmatism for society as much as idealism. They also directly designed for the market; Stepanova made dresses that were mass-produced, although supposedly workers' overalls by both Tatlin and Rodchenko never took-off and remained prototypes.
CS: The story of the enlightened entrepreneur who discovers a new, apparently revolutionary material, establishes factories all over the world and eventually retreats in oriental meditation and philosophical speculation on industrialised humankind… are you maybe trying to suggest a collective awareness regarding the mechanisms that govern our society?
JB: Perhaps there is something that connects the choices that steer and shape society, but I feel there is something more random and ego-related at play. Himmelheber seems to have developed his aesthete reflections after realizing his career as an industrialist. Perhaps the romantic structures he manifests are more telling of how the world is affected. His xenophilic fascination with Japan resulted in the 'Villa-Himmelheber' in the Schwarz Wald, complete with its own Shinto shrine. The building is on one hand a kitsch bastardisation of traditional Japanese forms, and on another an elegant supplement to the German countryside.
CS: This poetic of scraps reminds me of Joseph Cornell's artistic practice, "the image hunter" as described by Simic in his novel. The abandonment, salvaging and reuse of forgotten fragments in a new light confers a nostalgic hue to the installation, which is almost jarring if one thinks of the massive scale of chipboard production. It's very interesting how you confer dignity to a material, cheap par-excellence, through the use of a display, in an attempt of "musealisation". Is it a recurring practice in your research?
JB: In the case of chipboard, we are dealing with an essentially well-intentioned product, arguably a material derivate from the spirit of Bauhaus thinking. When such materials are proliferated however, they are prone to failure. Chipboard is holistic in the sense of being made from waste material, but stops short of cradle–to–cradle in that it is not recyclable due to being mostly glue and plastic – an environmental failure, as much as an idealistic one. It does however deserve a certain degree of embrace and love, so the installation hopes to show the value and of inventive thinking. This is of course employing the mechanisms of museums, which is a play on bringing legitimacy to a case study.
This idea of dignity is indeed a recurring part of my research and presentation, yes! I am currently researching air-conditioning here in NYC, for which there are many parallels to the case of chipboard. Thanks for the interest!