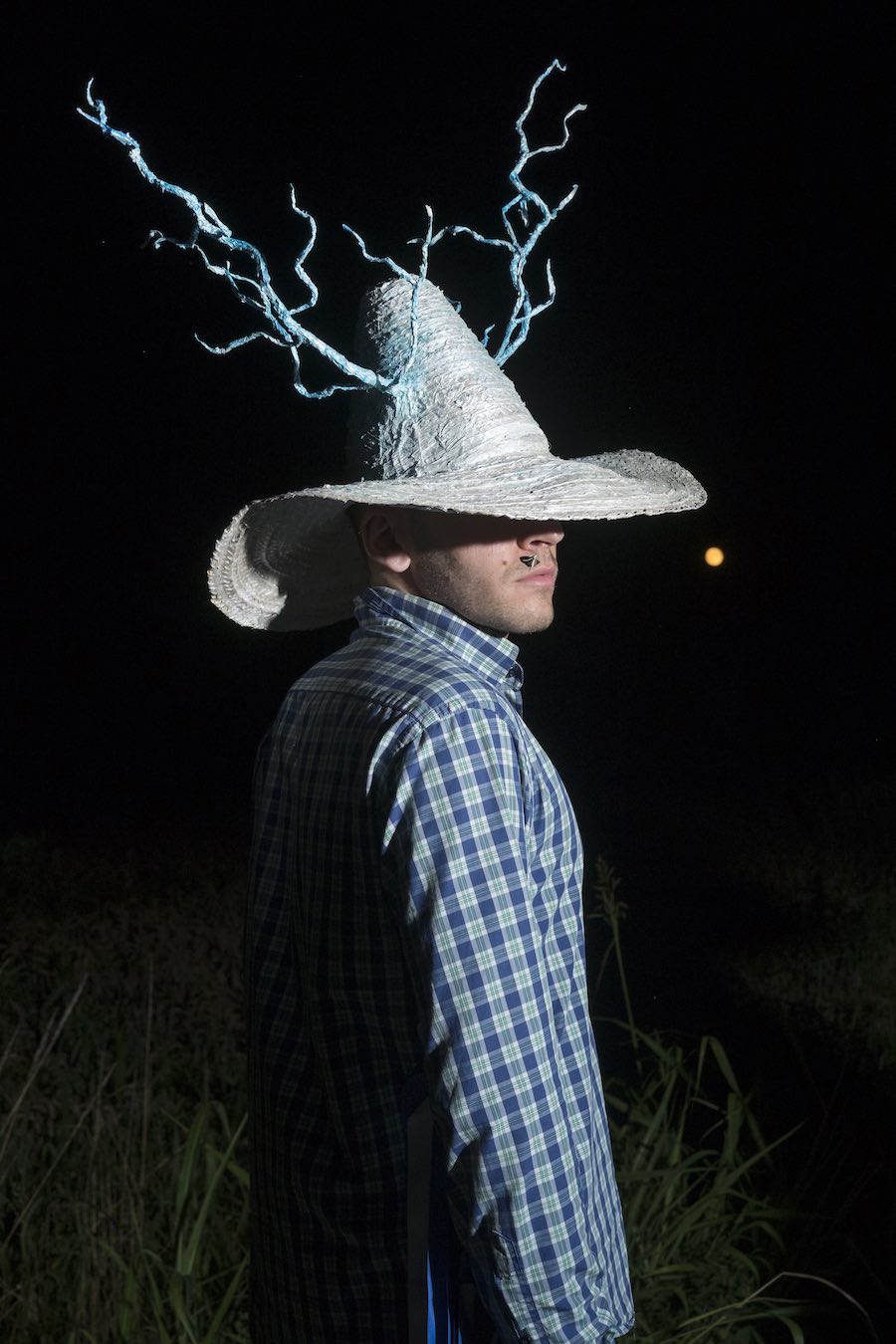 English version below —
Trascrizione ufficiale:
Caso 0032: I Masnadieri Volanti

Descrizione dei fatti:

All'imbrunire del 5 luglio 2020, in una zona rurale della campagna lombarda, due figure non chiaramente identificabili si sollevano del suolo e scompaiono nel buio.
Un fascio luminoso che le ha inizialmente circondate, le ha poi portate via. Eppure pochi istanti prima erano ben ancorate al suolo, costrette dalla forza di gravità terrestre.
La documentazione fotografica dell'accaduto è frammentaria, non è chiaro come queste figure siano arrivate in questo luogo, e nemmeno in che modo lo abbiano lasciato.
Io stesso, dopo aver visitato il luogo dove le fotografie sono state scattate, rimango piuttosto confuso sullo svolgimento dei fatti.
(Fine) Descrizione dei fatti
Report Investigativo:
Quella sera, la luna era piena, una mezza sfera brillante appiattita della distanza da cui la guardiamo. Gialla con riflessi arancioni, attaccata al cielo. Ogni 28 giorni, una luna piena diverse si mostra a noi.
La luna piena di luglio è anche detta Luna Piena del Cervo, dai Nativi Americani, o Luna Piena del Tuono, dagli antichi Anglosassoni.
Queste figure, osservando bene le fotografie, indossano copricapi e calzari che appaiono essere inspirati da forme organiche: la struttura di crescita dei palchi del cervo e la propagazione dei fulmini dal cielo verso la superficie terrestre.
In luglio, i cervi maschi producono grandi quantità dell'ormone somatotropo. Questo ormone favorisce la crescita dei palchi, che inizialmente sono riccamente vascolarizzati e rivestiti esternamente da una morbida peluria. I palchi del maschio, detti anche trofei, sono ricoperti di velluto fino alla loro pulitura, che avviene a fine agosto/inizio settembre. L'ormone del testosterone gioca un ruolo determinante in questa fase, favorendo la progressiva ossificazione dei palchi. Durante la stagione dell'accoppiamento i palchi saranno poi utilizzati per difendersi o per attaccare altri maschi. Essi cadranno nei mesi invernali per poi crescere nuovamente l'anno successivo.
Sempre in luglio, la frequenza di comparsa dei fulmini, che sono costituiti da due fasi: il lampo (la luce che si forma) e il tuono (il suono prodotto), aumenta largamente rispetto agli altri mesi dell'anno. Questo aumento è dato dal fatto che in estate, il mare ed il suolo sono più caldi, e spingono quantità maggiori di aria calda verso l'alto, sotto forma di bolle. Le bolle a contatto con l'atmosfera più fredda, originano nubi temporalesche e di conseguenza un maggior numero di temporali e fulmini.
La posizione a T delle figure in volo ricorda quella degli spaventapasseri, così come il cappello e la camicia che indossano. Attaccate alla camicia ci sono dei lunghi nastri a mo' di ali. Dalle immagini disponibili, non ritengo possa essere possibile spiccare il volo con queste rudimentali estensioni.
L'outfit dei soggetti è completato da pantaloncini e calzettoni sportivi. Il kit azzurro potrebbe appartenere alla nazionale di calcio Italiana o alla squadra provinciale lombarda G.S. Pregnanese, mentre quello nero sono piuttosto sicuro che appartenga ad una divisa ufficiale dell'A.C. Milan.
(Fine) Report Investigativo
Conclusione Report:
Caso 0032: I Masnadieri Volanti può essere descritto come un'apparizione o come un rapimento.
Accaduto durante "Luna Piena", progetto della Residenza La Fornace organizzato da Edoardo Manzoni e Giada Olivotto.
(Fine) Conclusione Report
---
Ha collaborato alla rubrica Irene Sofia Comi
Per leggere gli altri interventi di I (never) explain
I (never) explain – ideato da Elena Bordignon – è uno spazio che ATPdiary dedica ai racconti più o meno lunghi degli artisti e nasce con l'intento di chiedere loro di scegliere una sola opera – recente o molto indietro del tempo – da raccontare.
Una rubrica pensata per dare risalto a tutti gli aspetti di un singolo lavoro, dalla sua origine al processo creativo, alla sua realizzazione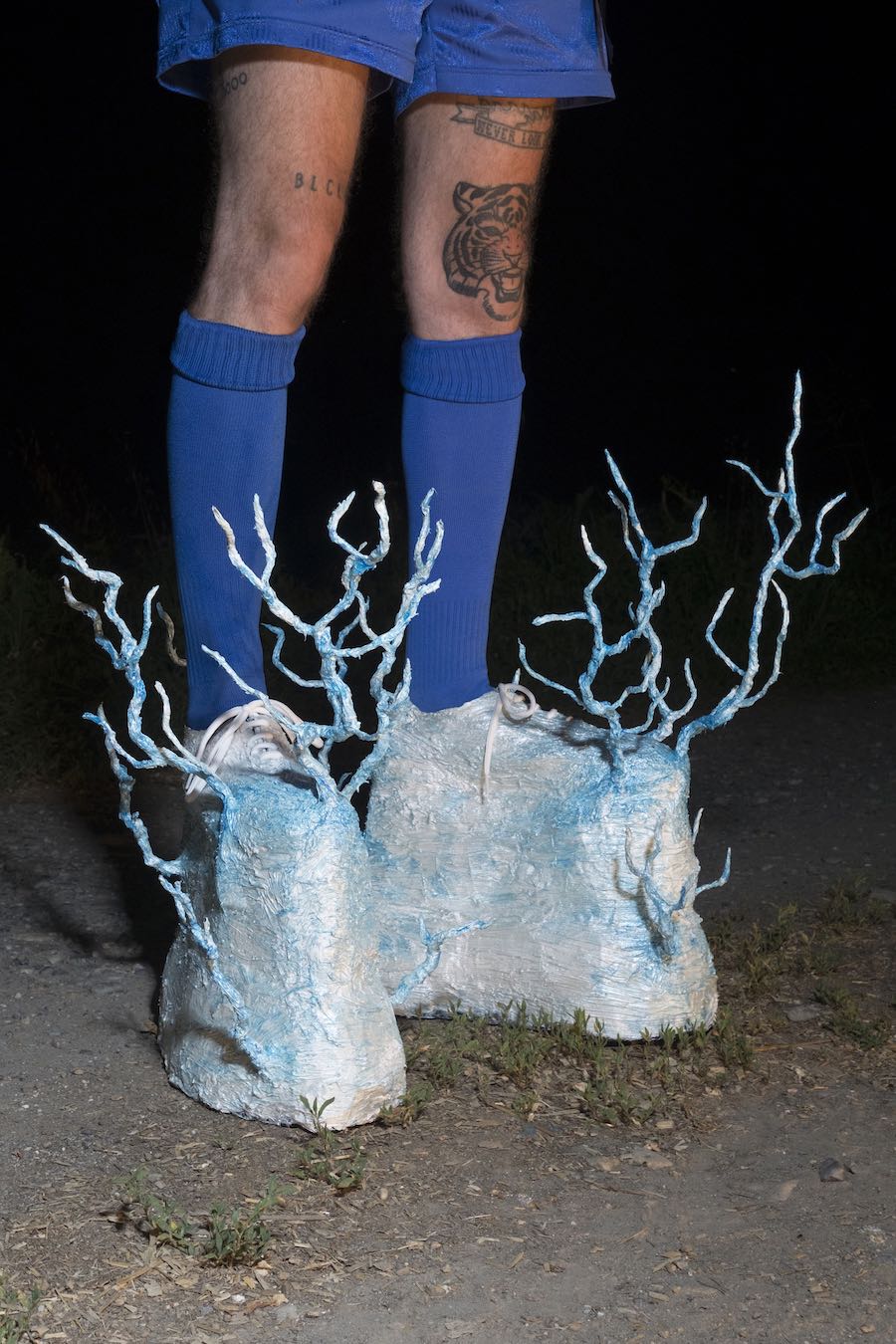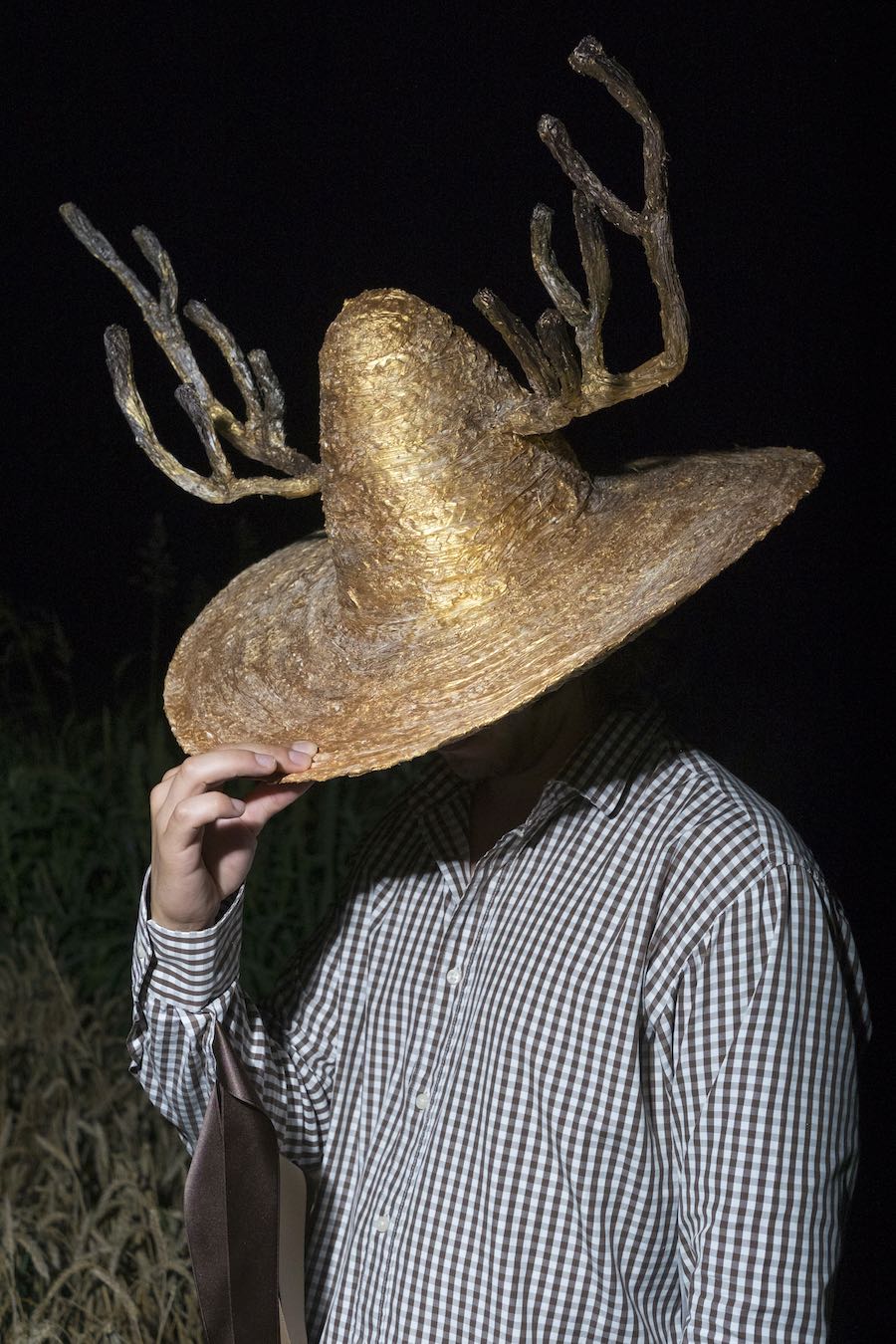 Official transcription:
Case 0032: I Masnadieri Volanti —

Statement of facts:
At dusk of the 5th of July 2020, in a rural area of the Lombard countryside, two not clearly identifiable figures lifted up from the ground and disappeared into the darkness.
A beam of light that initially surrounded them, took them away. Yet a few moments earlier they were well anchored to the ground, constrained by earth's pull.
The photographic documentation of what happened is partial and fragmentary, it is not clear how these figures got to this place, nor how they vanished.
I myself after visiting the place where the photographs were taken, remain rather confused about the course of events.
(End) Statement of facts
Investigation Report:
That evening, the moon was full, a shining half sphere flattened by the distance from which we look at it. Yellow with orange reflections, attached to the sky. Every 28 days, a different full moon shows itself to us.
The full moon of July is also called Buck Moon, by Native Americans, or Thunder Moon, by ancient Anglo-Saxons.
Observing closely the photographs, these figures are wearing headdresses and shoes that appear to be inspired by organic forms: the growth structure of the stag's antlers and the propagation of thunders from the sky to the earth's surface.
In July, male deers produce large amounts of somatropin. This hormone stimulates the growth of the antlers, which are initially richly vascularised and covered with a soft fluff. The antlers of the bucks, are covered with velvet until the shedding season, which take place at the end of August / beginning of September. The testosterone hormone plays a decisive role in this phase, favouring the progressive antlers' ossification. During the mating season the antlers will then be used to defend from other males or to attack them. Subsequently, they will fall during the winter months to grow again the following year. Also in July, the frequency of appearance of lightnings and thunders increases greatly, compared to the other months of the year. This increase is due to the fact that in summer, the sea and the soil are warmer, and they push more hot air upwards, in the form of bubbles. The bubbles, in contact with the colder atmosphere, generate storm clouds and consequently more thunderstorms and lightnings.
The T-shaped position of the flying figures is reminiscent of scarecrows, as is the hat and shirt they wear. Attached to the shirt, there are long ribbons as wings. From the images available, I don't think flight is possible only using these rudimentary extensions.
The outfit of the subjects is completed by sporty shorts and socks. The blue kit could belong to the Italian national football team or to the provincial team G.S. Pregnanese, while regarding the black kit, I'm pretty sure it belongs to an official uniform of A.C. Milan.
(End) Investigation Report
Report conclusions:
'Case 0032: I Masnadieri Volanti' can be described as an apparition or as an abduction.
It happened during 'Luna Piena', project of the 'Residence La Fornace' organized by Edoardo Manzoni and Giada Olivotto.
(End) Report conclusions