Per visionare l'archivio delle pubblicazioni ☞ ATPreplica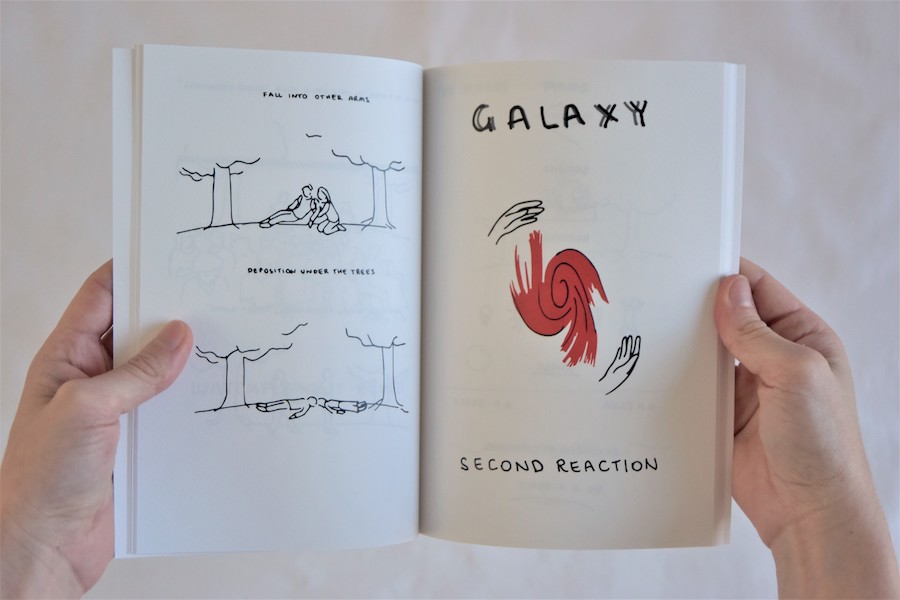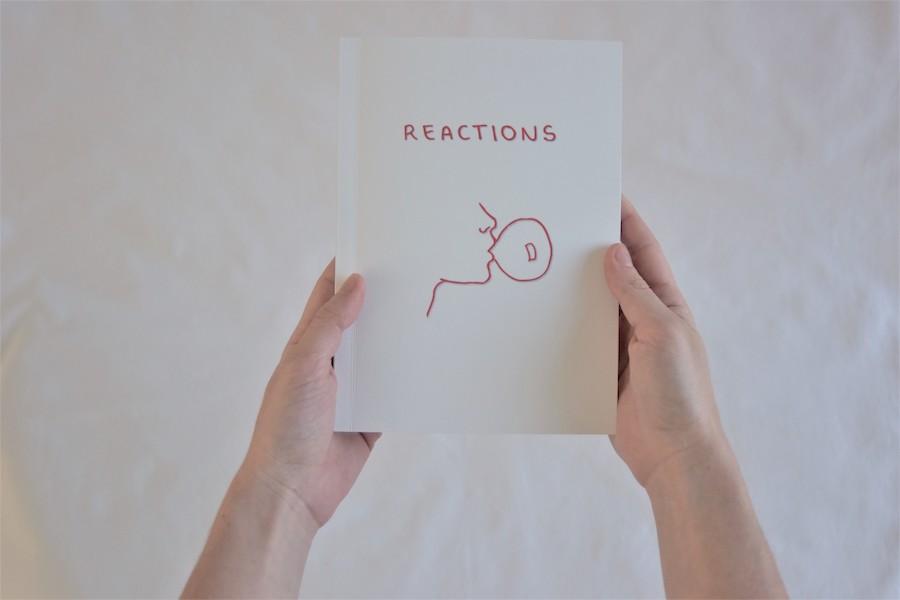 REACTIONS
Ginevra Dolcemare
Pubblicato da Fuzao Studio 2019
"The workbook aims at the importance of being collective. The exercises do not want to impose or be imposed, if not in the practice of fantasy as an act of freedom. Imagination of bodies as potential places, of vibrant solitude and resonant reciprocity. The will of thought arises to be power, to relate to reality, to create possible utopias."
Dall'introduzione di Reactions.
Il libretto (14,8x21cm x 70 pagine) è un eserciziario tascabile; concepito come un manuale d'istruzioni, rinfresca-pensieri, teso a far brillare gli stimoli corporei lontano dagli spazi virtuali. Per chi, come bambini-sperduti, crede fortemente nelle possibilità immaginative d'incisione sul reale. Le reazioni nascono da una necessità ben precisa: rispondere agli stimoli dati dall'ambiente esterno. Sono da intendersi tali, innanzitutto da un punto di vista chimico, fra i diversi confini epidermici; di conseguenza politico, per la semplice postura nuda e franca, nei confronti dello spazio che vogliono attivare. In quanto pratiche performative, del corpo e della mente, hanno un'attitudine site-specific e di ridimensionamento plastico, dell'inevitabile platea scenica che è il mondo (come ci suggerisce il filosofo Jean-Luc Nancy). Vicine ai principi espressi negli haiku di Yoko Ono e a Grammatica della fantasia di Gianni Rodari, sono incentivi a un pragmatismo bizzarro. Sviluppato in 7 esercizi illustrati, il libretto può suggerire infinite altre pratiche da attuare in diversi luoghi, che siano essi vuoti o pieni. Per allenare lo sguardo a essere un puntino e immaginarsi in quanto puntino, di volare lontano e guardare da fuori, dal punto di vista dell'universo: fatto di un buio iconoclasta, densamente trasparente.
Pressione simpatica on paper
di Matteo Vettorello
a cura di Irene Sofia Comi
pubblicato da Paolo Nava studio – febbraio 2020

Pressione Simpatica on Paper è un libro che raccoglie materiali diversi: foto documentative, alcuni appunti, un testo critico e una selezione di bozzetti che riassumono il processo progettuale che ha portato alla creazione del dispositivo Auto-indicatore di pressione simpatica. La pubblicazione diventa quasi un racconto, una documentazione del percorso di ideazione fino al suo avvenuto sviluppo.
Non si avvicinano neanche un po' a dei disegni tecnici, anzi! Il disegno mi aiuta a riassumere gli istanti nel momento di composizione e sperimentazione più concreta. Questa frase fa capo ad una pratica­ quotidiana: astrarre, abbozzare per poi formalizzare, sono tutti passaggi che mi conducono nello sviluppo di un'idea. I miei bozzetti sono disegni semplici, il personaggio che disegno sempre (forse senza sesso, forse incazzato, forse ha passato un giovedì di merda!) diventa un possibile utente, il fruitore nella realtà di uno dei dispositivi che progetto. Diventano un modo per scatenare la logica interattiva.
Nello scorrere del libro si trovano alcune pagine in trasparenza che permettono di creare dei giochi grafico-visivi, elementi di colore che sottolineano un dettaglio o che caratterizzano il funzionamento del dispositivo o ancora "omini" disegnati, che compaiono tra i testi e le pagine. Questa scelta di impaginazione è stata utile per condurre il lettore attraverso un tentativo di dialettica empatica che riprende "su carta" gli elementi necessari per comprendere il progetto Pressione Simpatica, che ha visto una sua realizzazione dal vivo a Edicola Radetsky a Milano, in una mostra curata da Irene Sofia Comi e che ha visto nella pubblicazione una sua naturale evoluzione.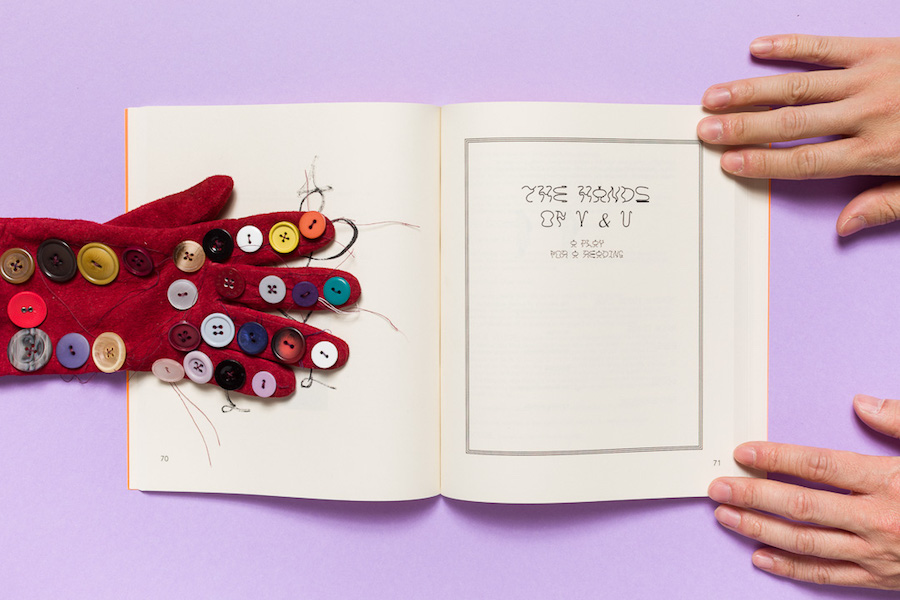 Oral Like Cloaks, Dialect: Selected Writing
Tiziana La Melia
148 pages, b/w, perfect-bound with letterpress cover
9.5 x 7.5 in – Edition of 250 – September 2018
ISBN 978-0-9952644-6-5

How many poems did it take to buy a coat? Hidden up the sleeve of my threadbare cloak are half
written scripts and conversations with artists, in babbling and sometimes interspecies guise. It is a flimsy, fraying, bleeding, brittle potpourri.
In Effects of a Room John, Candy guides me in his role as a failed soap opera writer, writing plot into life. History doesn't repeat, it time rhymes the Twang, Mark … another appearance. Satyrs – will you be continued?
The book is a butterfly soup (the pupa stage between larvae and adult).
It is a  rehearsal for living.
My favorite observation about this book was that they are poems for hairdressers.
Cloaking to get by.
Rambling premonitions for pockets of baby's breath.
There are poems that use objects, flora, and glitched phrases that coalesce into an attempt to understand relations with things.
The motion in emotion.
It is a book that doesn't work.
Broken, all-purpose and baroque.
Oral Like Cloak, Dialect is the title of my collected writing from 2005-2015 which was first edited by Steffanie Ling and later reprinted by Blank Cheque Press in 2018. A lot of the writing was written over email back when digital correspondence was still a vague terrain; flirty, searching and confessional–with sometimes months between replies. Other works were prompted by invitations and their subjects surfaced out of conversations with flatworms penis fencing or as confessions for the counselor Deanna Troy from Star Trek: The Next Generation. The second printing includes a couple new poems like St. Agatha's Stink Script, which I wrote when thinking about a perfume I wanted to make. I collaborated with Hepburn of Cracher Dans La Soupe Parfums – who amplified lines from the poem and turned them into olfactory notes for the perfume:
1. (Bomboniere one) title: "If we are awake and this fall bruises"
Notes: bitter almond, mimosa, cocoa, milk, powdered sugar, iris and vanilla.
2. (Green field mushrooms dew fur one) title: "Seeds between hubris fizz & herbal paragraphs"
Notes: orange flower water, wet moss, fig skins, grass, hay, lichen, soil, seaweed and sheep fur.
3. (Burnt rotting flesh decay one) title: On a day of creatures cooked
Notes: sage, still water, ash, hickory, fat, roasted bone, hair, vinegar, castoreum and cognac.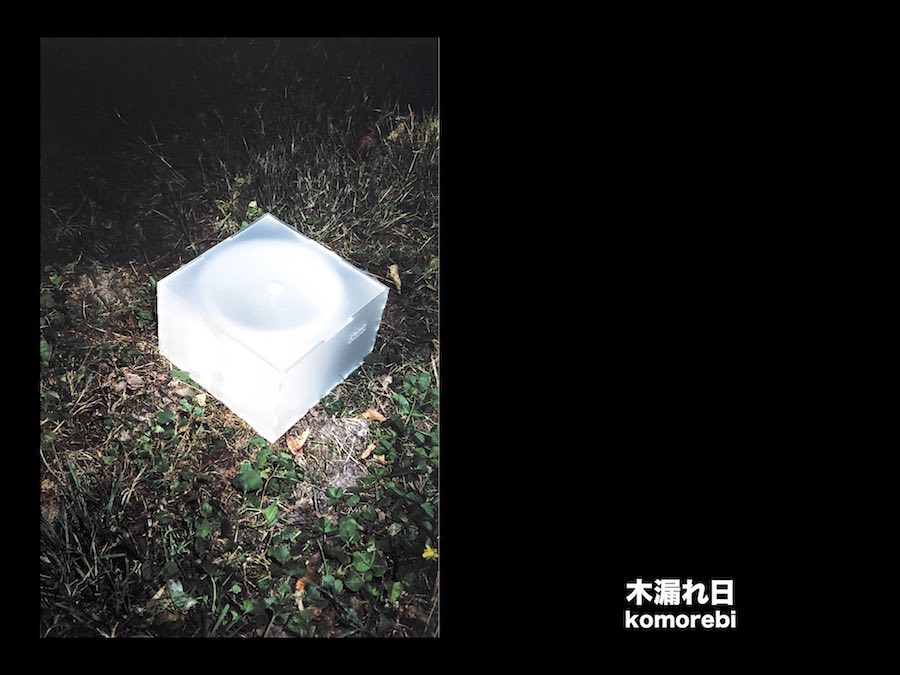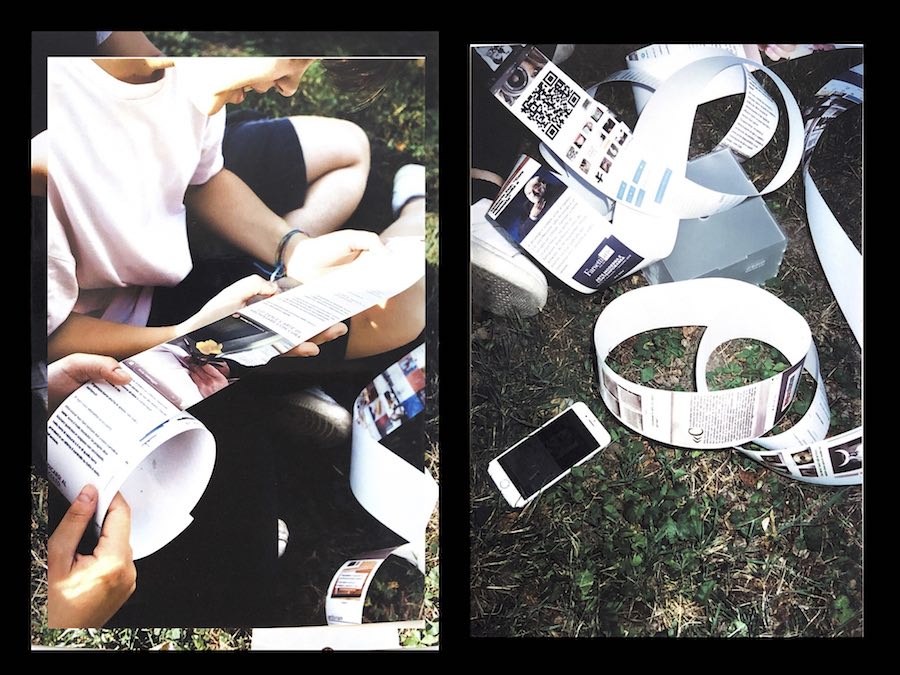 Komorebi
Francesco Nava
Data: 2019Materiali: Stampa digitale, Plexiglass– Rotolo 8 cm x 1000 cm (Scatola 15 cm x 15 cm x 9 cm) Tiratura: 10 esemplariProduzione: Autoprodotto
Komorebi è un apparato cartaceo sviluppato con l'intento di discutere di elementi quali il
ricordo, l'archivio, l'oblio e il perenne.
Incanalato durante la residenza all'archivio VIAFARINI il lavoro si presenta come lama critica nei confronti degli attuali meccanismi di memorizzazione esterna, fisica e virtuale. Utilizzando la logica dello screenshot il manufatto è un susseguirsi di pagine digitali che alimentano un'ipotetica narrazione del ricordo condiviso e/o privato, strutturato in uno scrolling fisico.
Da pagine di messaggistica istantanea con mio padre a chat con artisti come Mario Ariò il rotolo tenta di navigare tra istantanee fugaci e ricordi dispersi: logiche zen, futuribilia di ricordi cesellati nel DNA, canzoni appena accennate, salti nel digitale tramite QR code ed infinite pagine di Instagram.
I 10 metri del rotolo distillano malinconia, condividono sorrisi, alimentano la voglia di ricordare, bestemmiando talvolta, sul quanto sia difficile e insostenibile farlo… sotto la trama risuona una canzone registrata in un libro: avete mai letto La Nausea di Sartre?
Sooome of these days, you'll missss me honey