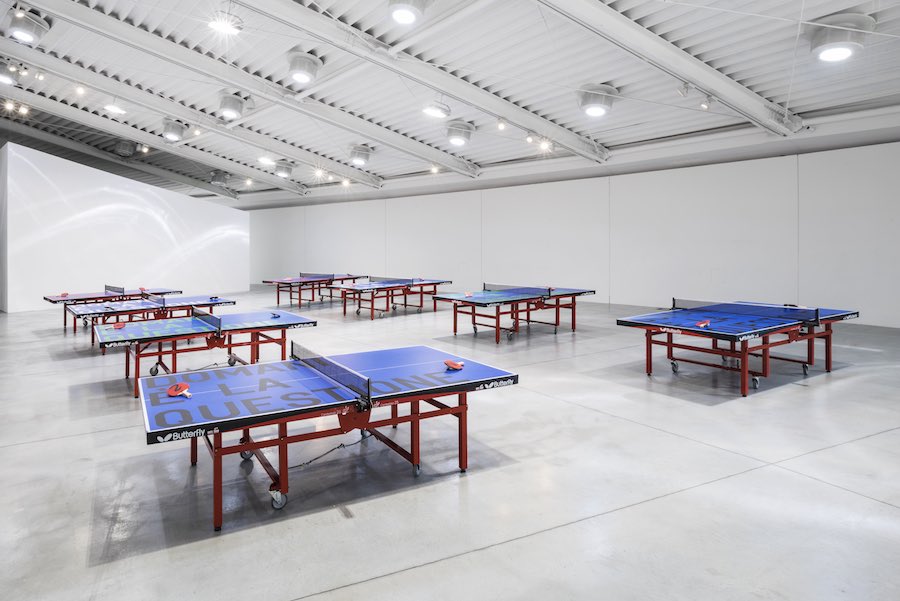 Quale sarà il futuro e il destino del nostro pianeta e dell'umanità? Ce lo chiede Rirkrit Tiravanija (Buenos Aires,1961) che con Tomorrow is the question arriva per la prima volta in Italia con una personale al Centro per l'arte contemporanea Luigi Pecci. La mostra – a cura di Camilla Mozzato e aperta fino al 25 agosto 2019 – continua la volontà dell'artista argentino di creare collegamenti inediti tra lo spazio dell'arte e quello della vita per avviare narrazioni che racchiudono strutture e modalità del quotidiano.
La personale al Pecci di Prato riunisce tre progetti di Rirkrit Tiravanija che ruotano intorno all'idea di futuro e alla necessità di interrogarsi sul destino. La prima grande installazione presente è Tomorrow is the question – da cui prende il nome la mostra – una sala con tavoli da ping pong su cui campeggia la scritta in diversi colori: "Domani è la questione". Il pubblico è invitato a partecipare attivamente alla realizzazione della mostra e alla riflessione sull'ambiente e sul contesto culturale in cui viviamo. Il progetto è una riattivazione di Ping Pong Society, un lavoro dell'artista slovacco Július Koller (1939 – 2007), il quale installò tavoli da ping pong in uno spazio espositivo per creare nuove connessioni tra i visitatori che presero parte al gioco.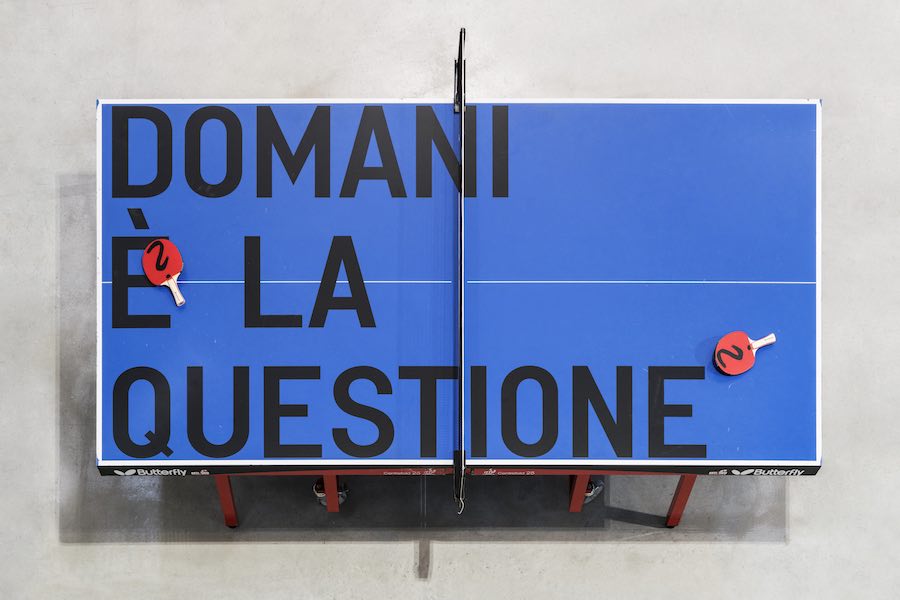 Sempre da un'opera di Koller prende vita il secondo lavoro in mostra, Untitled (Remember JK, Universal Futurological Question Mark U. F. O.), una fotografia che ritrae un gruppo di persone disposto a formare un grande punto interrogativo nella Piazza delle Carceri di Prato. Il remake di Tiravanija ricontestualizza l'atto di Koller e lo mette in relazione con il nostro presente, ricordando l'importanza di interrogarsi su quanto accade intorno a noi.
Una grande bandiera sventola davanti all'entrata del museo Pecci e riporta questo messaggio: "La paura mangia l'anima". La terza opera in mostra di Tiravanija richiama il titolo del film di Rainer W. Fassbinder Angst essen Seele auf (La paura mangia l'anima, 1973), il racconto di un'amore difficile tra un'addetta alle pulizie tedesca e un meccanico marocchino, la cui relazione fa emergere le loro paure più profonde. L'opera può essere considerata un manifesto che rimanda a tutto il lavoro di Rirkrit Tiravanija: una continua ricerca nella creazione di relazioni umane in nome dell'accoglienza e della vicinanza all'altro, valori che diventano fondamentali per la nostra vita e il nostro futuro.
RIRKRIT TIRAVANIJA. TOMORROW IS THE QUESTION
A cura di Camilla Mozzato
Centro per l'arte contemporanea Luigi Pecci
Fino al 25 agosto 2019