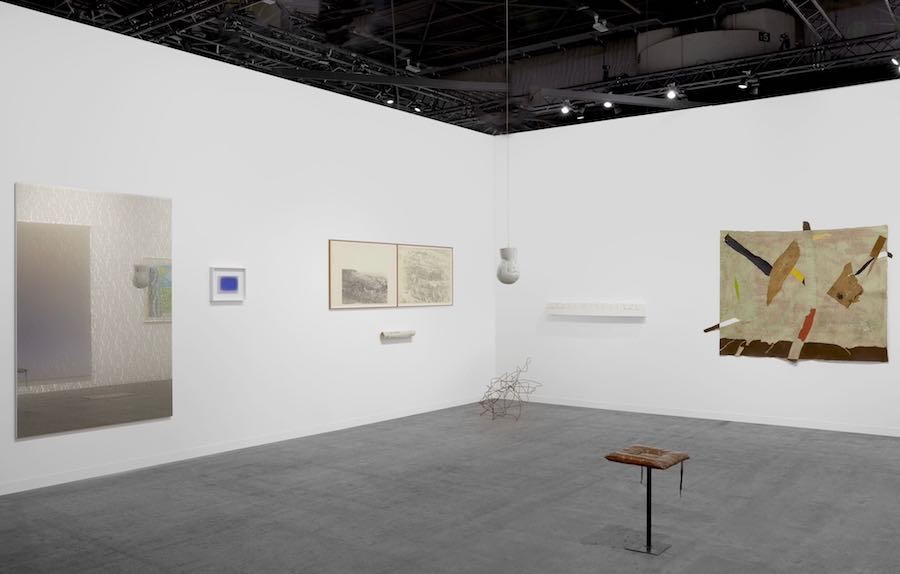 P420, Bologna
With works by Irma Blank, Laura Grisi, Paolo Icaro, Ana Lupas, Piero Manai, Francis Offman, Pieter Vermeersch

Bologna-based gallery P420 blends a mix of artists from different generations and backgrounds, working across a range of media, including sculpture, painting, print and photography. Works on show examine the relations between languages and time, the immaterial and the tangible, appearance and disappearance. In Irma Blank's series Radical Writings each mark has the length of one breath, from left to right, from beginning to the end, from emptiness to fullness. The same fluid natural progression appears in Pieter Vermeersch's painting Untitled, 2021, triggering infinitesimal perceptual experiences, presenting us with a work going beyond the sense and meaning of colour.
Semiose Galerie, Paris
With works by William S. Burroughs, Oli Epp, Aneta Kajzer, Françoise Pétrovitch, Stefan Rinck, Moffat Takadiwa & Xie Lei
The stand of Paris-based gallery Semiose is bold, colourful and surreal. Works by Burroughs, the great writer and painter whose estate they represent, are combined both with younger, more contemporary names like Oli Epp and Aneta Kajzer, but also with more mature voices like Françoise Pétrovitch. An ambiguous world emerges, inhabited by floating figures, animals and beings, and suspended between seriousness and humour, light and dark.

Galerie Mighela Shama, Geneva
With works by Poppy Jones
This Geneva-based gallery presents a selection of five small-scale paintings by British artist Poppy Jones, giving the space of the stand an intimate and poetic allure. Through a process of mono-lithographic printing onto fabric, Jones depicts ordinary objects – flowers, lamps and notebooks, closely cropped, caught in sunlight, or shadowed. They represent biographical moments of thought, small revelations of daily life, that she crystallises in time.
Mai 36, Zurich
With works by Ian Anüll,  Sam Bakewell, Irma Blank, Koenraad Dedobbeleer, Pia Fries, Jorge Méndez Blake, Michel Pérez Pollo, Manfred Pernice, Markus Saile, Albrecht Schnider, Lawrence Weiner, Rémy Zaugg
Zurich-based gallery Mai 36 presents a mix of Swiss and international artists working primarily with painting and sculpture. A well-balanced conceptual space, where language and narrative become the themes of these radical experimentations. Jorge Mendez Blake's paintings, part of a series named "Ars poetica", "dismantle" language and use analysis and synthesis to transform the narrative and the poetic into visual compositions. Another text-based work is Rémy Zaugg's LOOK/I AM/BLIND/LOOK, where the artist explores how vision and consciousness are linked (with harsh fluorescent colours that strain the eyes).
Franco Noero, Torino
With works by Darren Bader, Pablo Bronstein, Tom Burr, Jason Dodge, Sam Falls, Martino Gamper, Henrik Håkansson, Mark Handforth, Arturo Herrera, Jim Lambie, Jac Leirner, Robert Mapplethorpe, Henrik Olesen, Francesco Vezzoli
This bold and colourful booth hosts a large-scale tapestry "Where do you stand on 'purity'? (Homage to Josef Albers & Frank Stella)" by Francesco Vezzoli but counterbalances this work with the simpler and more severe "Fix and His Friends", from Tom Burr. At the centre of the stand lies Substitutions #3 by Darren Bader: a diversity of objects line the floor, separate in individual purpose but coming together to form a timepiece. Sculptures from Jac Leirner, Mark Handforth and Martino Gamper, meanwhile, balance out and unify the space, creating a satisfying continuum with the paintings that encircle them.