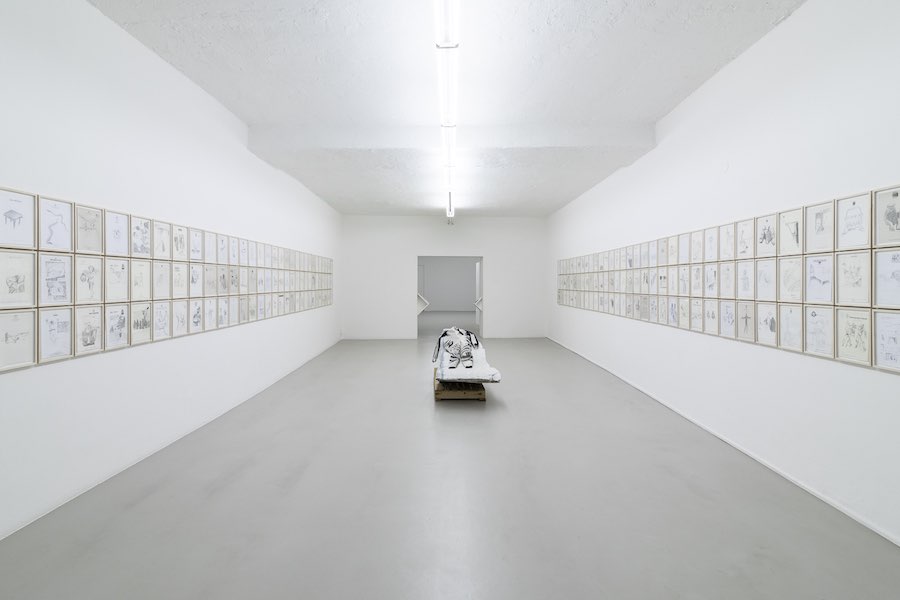 English text below
La mostra Buchhandlung Kalter König dell'artista Sven Sachsalber raccoglie un corpo di lavori prodotti negli ultimi anni che si confrontano con il formato del libro mettendo in atto diverse modalità e atteggiamenti. Attraverso la scrittura e il disegno, l'accumulo e l'appropriazione, la citazione e la violazione, Sachsalber rende pubblica, sotto il nome di una ideale casa editrice, o di una libreria personale, la complessa costellazione di figure che permeano il suo immaginario e la sua formazione, tracciando una linea di continuità tra il paesaggio alpino, dove è nato, con New York, dove ha scelto di vivere.
L'opera Buchhandlung Kalter König, che da anche il titolo alla mostra, parte da No Drawing No Cry di Martin Kippenberger, libro postumo in cui l'artista diede le istruzioni di pubblicare tutte le carte da lettera degli hotels "ripulite" dei disegni da lui realizzati e precedentemente raccolti nei due celebri volumi "Hotel-Hotel" e "Hotel-Hotel-Hotel". Un libro bianco con le sole intestazioni e identità grafiche degli alberghi in cui Kippenberger alloggiò e che Sven Sachsalber ha preso come un invito a disegnare, rendendolo un diario dove mettere in atto un metodico esercizio di esplorazione e auto-analisi portato avanti a sacrificio del valore economico della preziosa edizione. Sachsalber ha prodotto quindi nel suo libro 222 disegni a matitain cui cultura contemporanea, folklore, mondo animale e umano, incontrano gli umori e stati emotivi quotidiani. Un intreccio che inizia dalla riproduzione delle immagini di tradizioni alpine che per anni la galleria Svizzera Bruno Bischofberger ha usato come pubblicità sul retro di copertina di Artforum, e continuano con altri simboli e allegorie montane – dalla casa di Giacometti, fino all'acqua San Pellegrino che anche "è imbottigliata nelle Alpi Italiane da cui anche Sachsalber proviene", come cita la sua biografia.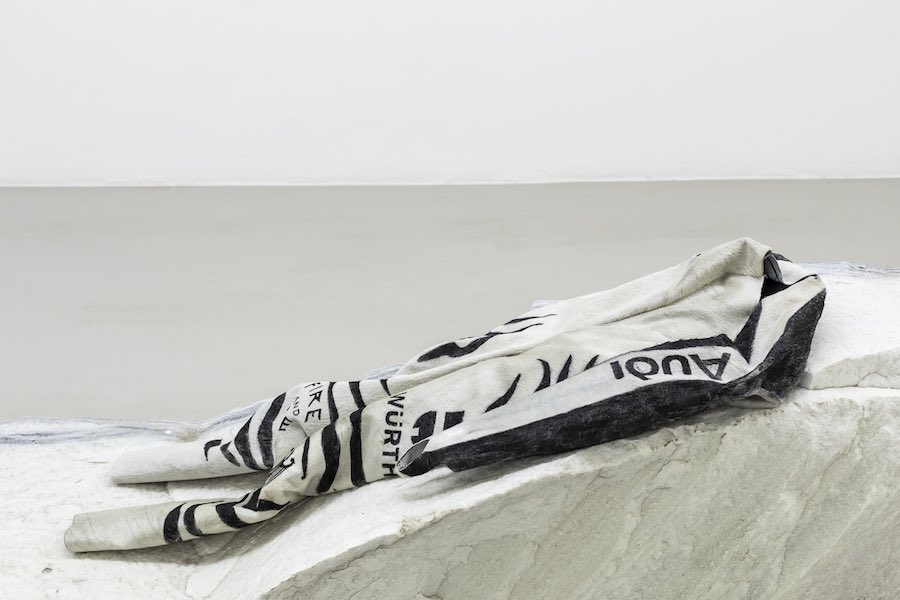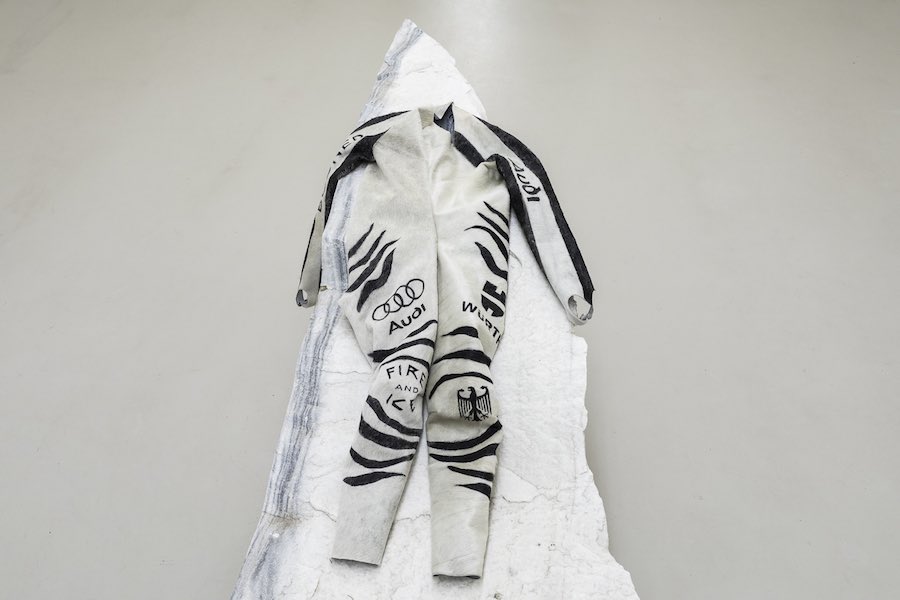 A fianco alle pagine del libro Buchhandlung Kalter König, anche i libri A B BC (2017) e Berg (2015, con Siggi Hofer) in cui emerge la continua ricerca, critica e preoccupazione di Sachsalber con il paesaggio come costruzione culturale e affettiva. Allo stesso tempo, nella raccolta dei tre libri-opere, ritorna il suo interesse a produrre un corto-circuito pungente e grottesco tra la sua biografia e lo sfruttamento dell'immaginario alpino nelle strategie di marketing, tra cultura alta e cultura popolare.
Se l'artista guarda a Martin Kippenberger lo fa anche nel tentativo di confrontarsi con la propria formazione, eredità e ambizioni personali, andando disegnare un mondo assurdo e tragico allo stesso tempo. Una riflessione che necessariamente investe anche il corpo, spesso visto in competizione con la montagna stessa, e che per forza lo lascia stremato. Zebracabana (2018) è una tuta da sci riprodotta dall'artista a partire dall'iconico design della nazionale tedesca di sci: cosa ci fa una zebra sulle montagne innevate?
Sven Sachsalber (1987, Silandro, vive e lavora a New York) ha studiato scultura al Royal College of Art, London. Il suo lavoro è stato presentato tra gli altri a: Bible, NY, Shoot The Lobster, NY; White Columns, NY; Helper, Brooklyn; Performa, NY; Fiorucci Art Trust, Stromboli; Palais de Tokio, Paris, Museion, Bolzano, Limoncello Gallery, London.
Save the date: il 22 Marzo ar/ge kunst aprirà il progetto Temporary Lovers del collettivo Parasite 2.0 andandosi temporaneamente a sovrapporre alla mostra di Sven Sachsalber e a tracciare riflessioni ulteriori su animalità, affettività, paesaggio e comunità attraverso altri modi di sentire e metodologie.
BUCHHANDLUNG KALTER KÖNIG
SVEN SACHSALBER
22.02.-13.04.2019
A cura di Emanuele Guidi
Ar/ge Kunst, Bolzano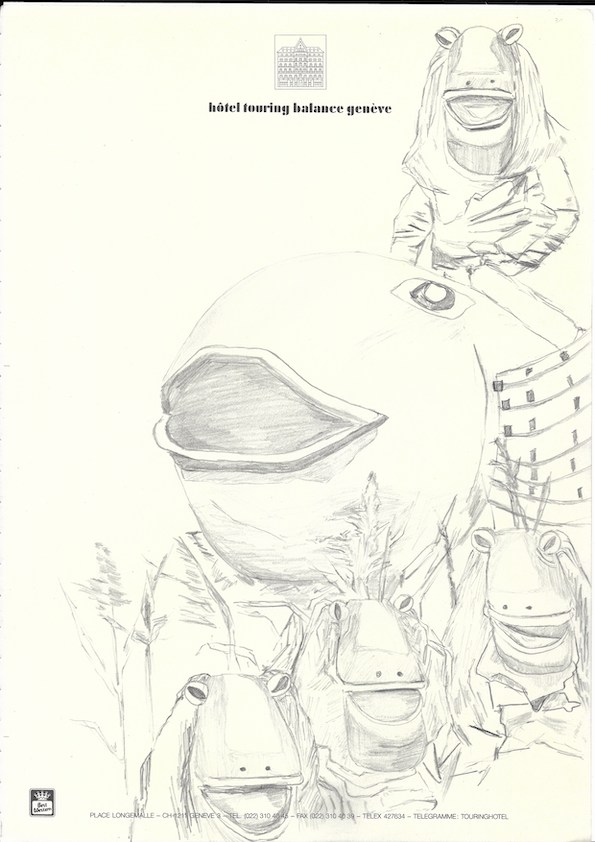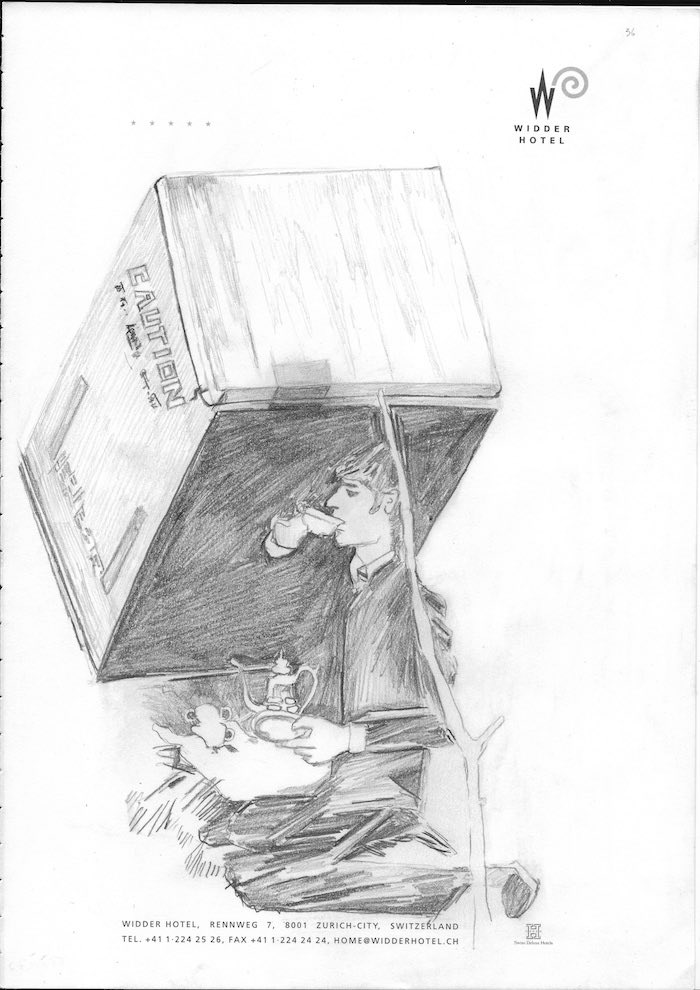 BUCHHANDLUNG KALTER KÖNIG
SVEN SACHSALBER
22.02.-13.04.2019
Curated by Emanuele Guidi
The exhibition Buchhandlung Kalter König by Sven Sachsalber gathers together a body of recent works that employ and engage with the format of the book in a variety of attitudes and approaches. Through writing and drawing, accumulation and appropriation, quotation and violation, Sachsalber uses the name of an ideal publishing house or personal bookshop to make public the complex constellation of figures that permeate his imagery and development. At the same time he also traces a line of continuity between the alpine landscape where he was born and his adoptive city of New York.
The titular work Buchhandlung Kalter König relates to a posthumously published book by Martin Kippenberger: No Drawing No Cry. This book reproduces the hotel writing paper that Kippenberger had previously published—with drawings—in the two famous volumes Hotel-Hotel and Hotel-Hotel-Hotel, though in this case his instructions were to publish the same stationery "cleansed" of the drawings. The result was a book of blank sheets of paper showing nothing but the letterheads and logos of the hotels where Kippenberger had stayed.
Sven Sachsalber took this gesture as an invitation to draw on the paper again. To the evident detriment of the material value of this costly edition he has kept a diary in which he undertakes a systematic process of discovery and self-analysis.
In this book Sachsalber has made 222 pencil drawings where contemporary culture, folklore, the animal kingdom and the human world encounter everyday moods and atmospheres. In reproducing pictures of alpine traditions (years of adverts printed on the back of Artforum magazine for the Swiss Galerie Bruno Bischofberger) he starts to weave together symbols and emblems of the alpine world, from Giacometti's house to San Pellegrino mineral water – "bottled in the same part of the Italian Alps that Sachsalber comes from" – as his biography is at pains to point out.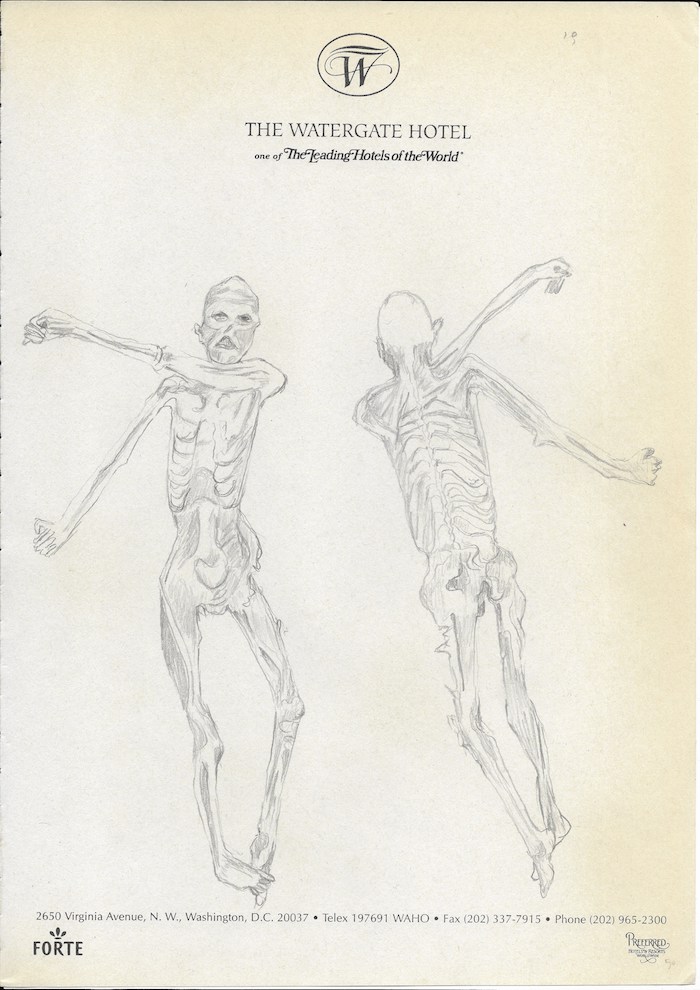 Besides the pages of Buchhandlung Kalter König, the books A B BC (2017) and Berg  (with Siggi Hofer, 2015) are also pervaded with the same constant searching, criticism and concern that Sachsalber feels for the landscape as a cultural and emotional construct. At the same time, the juxtaposition of these three art books again reveals the intention to make his biography and the exploitative strategic marketing of the alpine landscape – i.e. high and popular culture – into a caustic and grotesque short circuit.
Sachsalber looks at Martin Kippenberger to come to terms with his own development, heritage and personal ambitions. The world that emerges is tragic and absurd. And of course it's also about the body, which is often regarded as being in a rivalry with the mountain and is inevitably exhausted by it. Zebracabana (2018) is a ski suit that Sachsalber has modelled on the iconic design of the German national ski team: what's a zebra doing in the snowy mountains?

Sven Sachsalber (b. 1987, Silandro, lives and works in New York) studied at the Royal College of Art, London. His work has been presented at Bible, NY; Shoot the Lobster, NY; White Columns, NY; Helper, Brooklyn; Performa, NY; Fiorucci Art Trust, Stromboli; Palais de Tokio, Paris; Museion, Bolzano; Limoncello Gallery, London and elsewhere.
Save the date: Temporary Lovers by the collective Parasite 2.0 opens at ar/ge kunst on 22 March; temporarily overlapping with the exhibition by Sven Sachsalber, this project will follow further reflection.
As on notions like animality, landscape and community through other methodologies and ways of feeling.