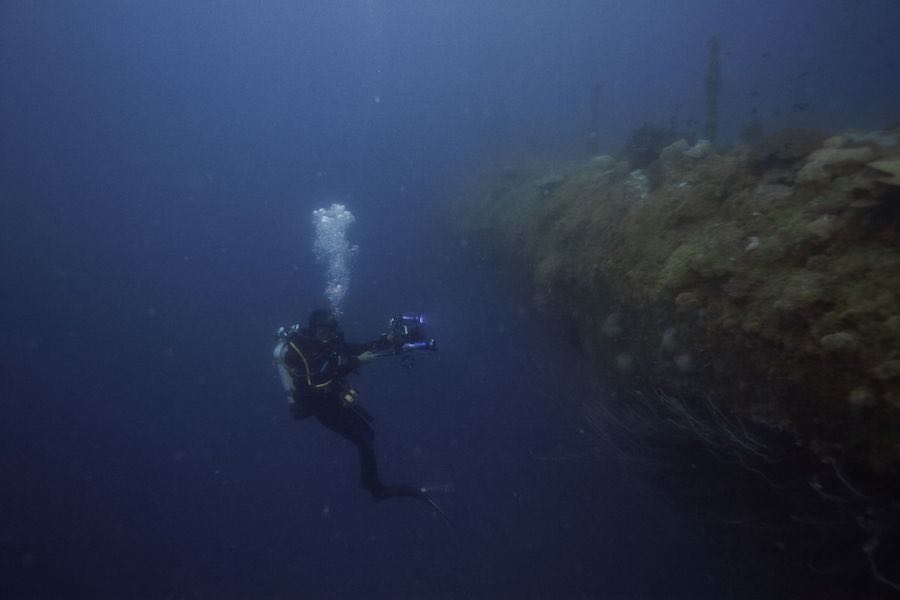 Negli ultimi due secoli e mezzo l'uomo ha modificato il territorio e l'ambiente circostante a tal punto da portare i geologi a riconsiderare la suddivisione e denominazione dell'epoca geologica corrente: l'Olocene, teoricamente ora in corso, è stata sostituita dall'Antropocene, "l'era dell'uomo". Un'epoca geologica iniziata solo recentemente, ma il cui impatto risulta essere più veloce ed evidente di tutte quelle precedenti. Quali tracce ne rimarranno? Come l'uomo del futuro ne ricostruirà gli eventi?
Gli ampi spazi della Sala delle Ciminiere del MAMbo – Museo d'Arte Moderna di Bologna si trasformano in una sorta di museo archeologico del futuro con la mostra "All We Ever Wanted Was Everything and Everywhere". Le tre grandi navate bianche ospitano gli oggetti che l'artista svizzero Julian Charrière ha raccolto in luoghi come l'atollo di Bikini, il Kazakistan e l'Indonesia. Reperti storici che accompagnano lo spettatore alla scoperta di un tempo che sembra lontano, ma che è al contrario tremendamente presente. Un viaggio che inizia nell'oscurità con il video "Iroojrilik" nel quale un montaggio costruito su ellissi e sostituzioni crea l'immaginario di una civiltà sommersa ormai estinta, una sorta di Atlantide della quale non rimangono che le rovine mentre sulla terraferma la natura trova nuovi luoghi e nuovi spazi per continuare a sopravvivere. Si tratta in realtà di immagini che l'artista ha raccolto nelle profondità dell'atollo di Bikini sui cui fondali giacciono abbandonate i resti delle navi utilizzate dagli americani per gli esperimenti nucleari. Trasportato in un non-luogo, sospeso tra la distruzione e un nuovo inizio, lo spettatore è ora pronto per immergersi in uno spazio nel quale i profondi abissi e la superficie coesistono.
Nella navata centrale un'elica abbandonata nelle profondità dell'oceano sembra sospesa nel video "As We Used To Float" circondato dalle noci di cocco rivestite di piombo di "Pacific Fiction", talvolta raccolte in piccole piramidi come palle di cannone talvolta disperse per l'ambiente a creare una sorta di campo minato all'interno del quale muoversi lentamente, quasi in punta di piedi. La sensazione è quella di trovarsi in un campo di battaglia tra forze immateriali, sul luogo di una catastrofe appena avvenuta e forse annunciata dalla campana pericolosamente in equilibrio di "All We Ever Wanted Was Everything and Everywhere" al cui interno sembra riecheggiare il suono ovattato degli abissi.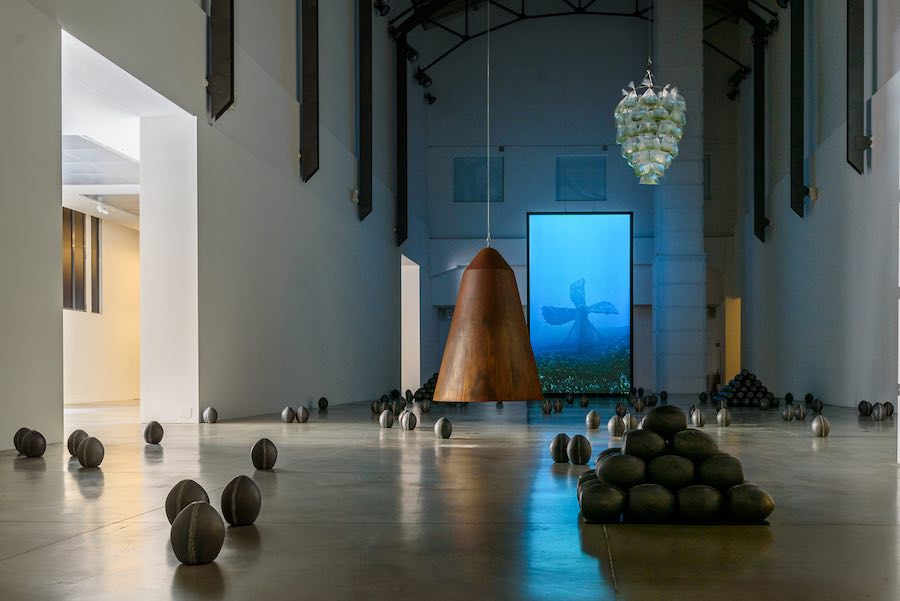 Uno scenario post-apocalittico che ritorna anche in "Polygon", serie che documenta quello che resta dell'ex poligono atomico sovietico in Kazakistan con fotografie in bianco e nero cosparse, durante lo sviluppo in camera oscura, di polvere proveniente dal terreno radioattivo del sito. Negli scatti, la cui visione è resa flebile dall'azione delle radiazioni, edifici abbandonati si ergono nelle terre desolate come monumenti involontari. Strutture nate con una funzione, oggi vuote a cui Charrière dedicata anche il video "Somewhere" le cui immagini richiamano alla mente le prime scene di "2001: Odisseo nello spazio". Attorno a questi monoliti però qui non c'è alcun segno di vita.
E' proprio il peso del silenzio di un luogo abbandonato, lasciato in balia dello scorrere del tempo dopo essere stato occupato e profondamente modificato, che sembra far sprofondare lo spettatore nuovamente negli abissi con "Where Water Meets" una serie di fotografie con le quali Charrière ritrae tuffatori subacquei mentre si immergono nelle profondità delle grotte calcaree messicane. Negli scatti i corpi nudi appaiono come sospesi nell'oscurità, in bilico tra il completo abbandono e il tentativo di risalita. In tutti i lavori presenti in mostra gli elementi reali, siano questi oggetti rinvenuti o immagini catturate, si combinano con un'azione e uno sguardo che li trasporta in un piano percettivo altro che rompe i limiti del tempo e dello spazio. Ed ecco allora che noci di cocco geneticamente modificate vengono esposte come reperti, o forse sculture, in teche di vetro in "Lost At Sea. Pikini-Fragment" e i mappamondi sospesi di "We Are All Astronaut" vengono privati dei loro confini disegnati tramite l'uso di una carta abrasiva realizzata con campioni di minerali provenienti da tutto il mondo. Un continuo slittamento tra reale e immaginario, presente e futuro, reso esplicito da "In The Real World It Doesn't Happen That Perfectly", esterno agli spazi della mostra, che raccoglie i video di falsi attentati terroristici costruiti da Charrière nell'Arches National Park dello Utah e diffusi dai maggiori canali di informazioni come veri. Ancora una volta è il presente il punto di partenza per la creazione, la messa in scena, di una realtà che mette in luce le dinamiche sociali e i legami tra le azioni dell'uomo e i fenomeni ambientali.