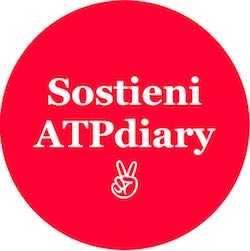 English version below —
Tutti i nostri collaboratori scrivono volontariamente, ma necessitano di piccoli, ma doverosi contributi per il lavoro che svolgono.
I costi di ATPdiary sono coperti da generosi sostenitori – Fondazioni, Collezioni, Musei e Gallerie – e da partnership editoriali su singoli progetti culturali, ma non sono abbastanza!
E' necessario avvalersi di contributi spontanei dei nostri lettori, che molto spesso sono artisti, curatori, giornalisti, galleristi, direttori di musei che si ritrovano nei testi che pubblichiamo dall'apertura della testata.
In dieci anni abbiamo fatto passi da gigante: da blog ritagliato su misura della fondatrice, Elena Bordignon, ATPdiary è diventata una testata d'arte credibile, professionale e indipendente dove giovani talenti e professionisti navigati trovano spazio per raccontare il coinvolgente mondo dell'arte.
Con il tuo sostegno possiamo continuare ad essere liberi e puntigliosi nel raccontare l'arte e i suoi protagonisti.
---
SATISPAY
Satispay è il metodo di donazione preferibile in quanto non applica commissioni né per chi effettua la donazione né per ATPdiary

---
PAYPAL
PayPal permette di sostenerci attraverso un conto PayPal ma anche con tutte le principali carte di credito (senza conto paypal). È possibile effettuare un singolo versamento, ma consente anche di impostare una piccola donazione mensile automatica per garantirci una cerca continuità (generosa!)
---
BONIFICO BANCARIO
Iban su richiesta —
---
All our contributors write voluntarily, but they need (and deserve) small but very dutiful grants.
Generous supporters – Foundations, Collections, Museums, and Galleries – and publishing partnerships on individual cultural projects cover ATPdiary costs.
However, spontaneous contributions are essential: that is why we are addressing to you, our readers, especially artists, curators, journalists, gallerists, and museum directors who believe and find themselves in our articles since the launch of the journal.
In ten years, we have made considerable progress: starting as a blog tailor-made by its founder – Elena Bordignon – ATPdiary has become a credible, professional, and independent magazine in which young talents and seasoned pros can tell the Art world.
We hope and are grateful for your support which will enable us to continue to narrate – freely and carefully – art and its protagonists.