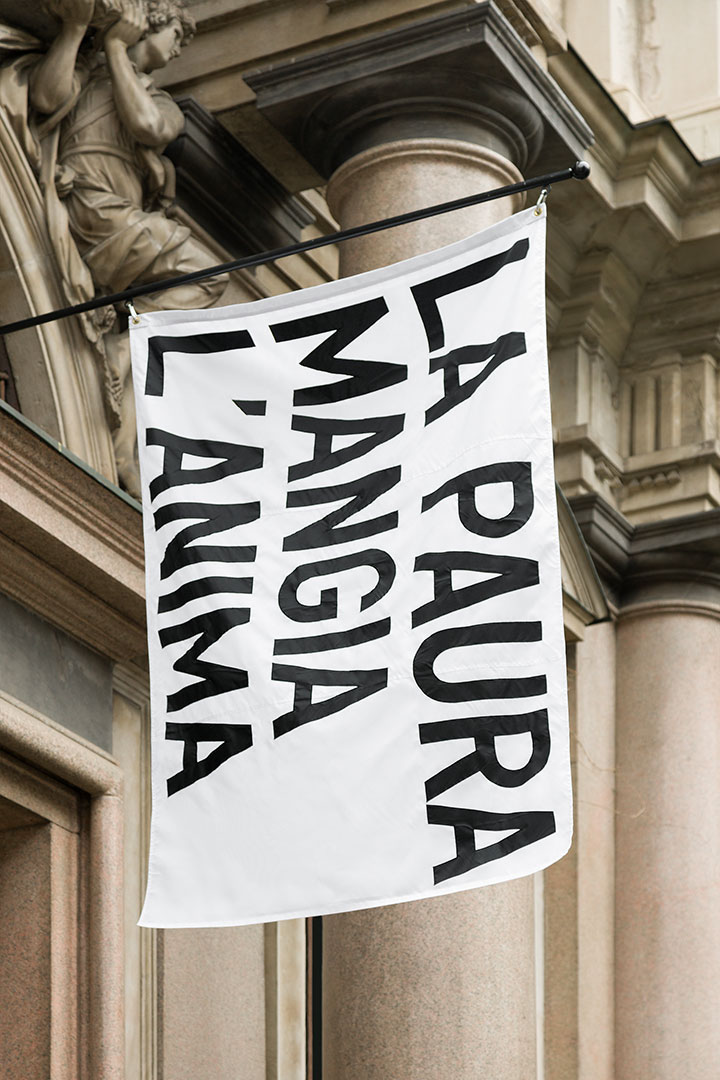 Da oggi e per tutto il 2020, la facciata della Chiesa di San Paolo Converso a Milano – sede della Fondazione Converso – ospita un intervento di Rirkrit Tiravanija. L'artista newyorkese ha pensato per questa sede una serie di sei bandiere, ognuna delle quali, visibile per circa due mesi, presenta lavori che ricorrendo a testi e immagini contestualizzano le ricorrenti strategie di appropriazione tipiche della produzione dell'artista al fine di sostenere per la prima volta un progetto di propaganda culturale e socio-politica a Milano.

La prima bandiera della serie intitolata «La Paura Mangia L'Anima» («Fear Eats the Soul») è un riferimento al film cult di Rainer Werner Fassbinder, «Ali: Fear Eats the Soul», ancora attuale per le sue toccanti domande riguardo argomenti razziali e di lotta di classe nella Germania degli anni '70. Realizzata appositamente per Converso, la prima bandiera di Tiravanija arriva, tempestivamente, in un momento della storia globale, quando musei e istituzioni culturali stanno vivendo chiusure forzate in tutto il Nord Italia come misura precauzionale di salute correlata alla diffusa epidemia conosciuta come Coronavirus.

«La Paura Mangia L'Anima» (2020) sarà visibile da martedì 3 marzo a sabato 2 maggio 2020. Seguiranno ulteriori dettagli sulle serie di bandiere di Tiravanija nel corso della programmazione futura.