RICCARDO PREVIDI
a conversation with ATPdiary – Elena Bordignon
ATP: To put on show, to set out, to put up, to parade… I have also found "to show off". It's curious to hear about how you began and how you have introduced your show: with a dictionary entry of the various meanings of the word "display". From 'to flaunt' to the sense of a screen or monitor. This word seems in many ways to encapsulate many of the manias and tendencies of contemporary art, I think. Why did you choose this word?
Riccardo Previdi: Franco Albini said that "the important thing is not what you display, but how you display it". This statement has stuck in my mind for years. The museum displays of Albini, of BBPR and of Carlo Scarpa have been constant sources of inspiration. Over time however I have come to realize that it is not only the forms that interest me. The frames, the base, the empty space around it, these are all elements that take part in constructing the value of what is displayed. Of course, that generation of architects was "updating" the way in which society, from various points of view, had been organized up to that time. Their systems/models were often anti-monumental. To affirm that the way something was displayed was more important than the object actually displayed was a way of reducing the value of the object. What was going on was not however a clash with authority as such but rather a rethinking of it. The promise of modernism was not a removal of hierarchies but a substitution of the highest level. Saying that the display is more important than the content displayed has led us, more or less consciously, to a point in which the consumption of containers has actually overtaken that of content. More MP3 players are sold than discs, there's more money to be made selling plasma TVs than producing films. 
ATP: In the text of the presentation, you pose a question for us: what would happen if the display of the smartphone in our pockets stopped showing images? If our computer wouldn't start? What answers did you found?
RP: In general I am more interested in asking questions, both to myself and to others, than in venturing answers. I think art does better with question marks than with exclamation points.   In any case, if it will help make what I'm talking about clearer, I can say that one of the works on display is a video installation: Tatami (no matter where you are, you're always able to see the one you love), in which the promotional images of the latest iPhone model are alternated with those of an amateur video of a fight – for several days misinterpreted by Western media as a strike – that took place at the Foxconn plant in Taiwan. The few hours of stopped production that resulted were enough to cause the price of Apple stocks to drop, which in turn immediately weakened the most important European stock exchanges.     
ATP:  What works are you displaying and how do you see them reflecting, responding or testing the viewer on the complexity of the term "display"?
RP. In the show there is a new series called Broken Displays. Images of the broken screens of electronic devices collected on the Internet, printed on synthetic felt and on transparent PVC film, on which I have spray painted and installed hanging on bamboo shafts, as if there were towels or curtains. There is Tatami, which I mentioned before, there is a special wallpaper featuring that geometrical image used to calibrate monitors, the so-called screen test, but drained of its colors and thus its main function. Then there is triptych, painted (by myself!) with acrylic colors. Here the subject is again the screen test, but this time with running into one another. The title is Cimento dell'armonia e dell'invenzione (The Contest Between Harmony and Invention). And then there's a sculpture called Ciao.
ATP: You have used different techniques and materials for the works. Among them there is also an aluminium sculpture with human features. What is its significance in relation to the other works?
RP: I have always been interested in productive systems. In the case of this show my attention was particularly focused on labor. How much does it cost to make something? How much time does it take? How many people/skills are needed? The wallpaper was made in Holland thanks to an Internet site that offers at large-scale digital prints at low cost. The Broken Displays were made in part by hand in part by a machine, a UV plotter; the images of the broken screens were taken by people I don't know and whom I never will know.          Ciao, the sculpture to which you refer, is a human presence in the show, an android, a virtual spectator, a faithful fan that will be there from the opening to the closing of the show to make sure everything goes well. I borrowed the name from the awkward mascot from Italia Novanta. Its body is made out of aluminium bike frames made China and purchased on Alibaba.com. I assembled it myself with the help of an artisan in Berlin.
ATP: You set yourself to painting? In what sense do conceive of this artistic practice?
RP: Yes, I did it! I've been playing around with the idea for years. If you recall, in the last show at Francesca Minini there I had already come close to it. Except that there I was more interested in the idea of painting a picture. The point was not painting precisely but rather the rules, the boundaries, the reasoning behind making a painting. I was trying to understand them in order to re-appropriate them for myself. But it was still a reflection on the "container", on the display, on a circumscribed space. This time, with the triptych Cimento dell'armonia e dell'invenzione (The Contest Between Harmony and Invention), I wanted to shift the attention onto the "content". Doing this means, for me, on the one hand emancipating the production of the work from the initial capital and from outsourcing, on the other hand re-appropriating a discipline that I learnt and practice during my formative years.
The title refers to the squared sheets of Alighiero Boetti, who in turn took it from a series of compositions by Antonio Vivaldi. It is a reflection on passing time, and on what it takes to make – concretely and with one's own hands – something; but it is also an invitation to lose oneself in making something, to not concentrate too much on the result.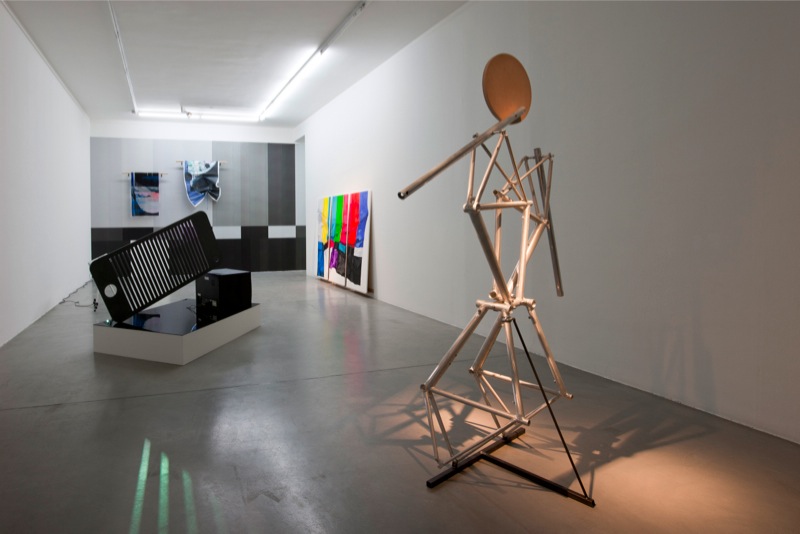 Intervista con Riccardo Previdi in occasione della sua mostra  Broken Display alla gallerias Francesca Minini – Fino al 30 Gennaio 2013
ATP: Mettere in mostra, disporre, affiggere, esporre, fare sfoggio… – ho trovato anche: fare la ruota.  E' curioso come hai iniziato o hai introdotto la tua mostra: con una citazioni sui significati della parola 'display'.  Dall'ostentare al significato di 'cosa', schermo. Questa parola sembra, per molti versi, sintetizzare al meglio molte manie o tendenze dell'arte contemporanea, penso.  Perchè hai scelto questa parola?
RP: Franco Albini, sosteneva che: "non è importante cosa si espone, ma come lo si espone". Questa affermazione mi accompagna da anni. Gli allestimenti museali di Albini, dei BBPR e di Carlo Scarpa sono stati a lungo una fonte di ispirazione. Col tempo però mi sono accorto che ad interessarmi non erano solo le forme. La cornice, il basamento, lo spazio vuoto attorno, tutti elementi che concorrono alla costruzione del valore della "cosa esposta". Certo quella generazione di architetti stava "svecchiando" il modo in cui la società, sotto vari punti di vista, era stata fino ad allora organizzata. I loro sitemi/modelli erano spesso antimonumentali. Affermare che le modalità espositive sono più importanti del soggetto esposto era un modo per ridimensionarne il valore. Quello che stava succedendo però non era uno scontro con l'autorità in quanto tale ma piuttosto un suo ripensamento. Quello che il modernismo prometteva non era un abbattimento delle gerarchie ma una sostituzione ai vertici. Dire che il display è più importante del contenuto esposto ci ha, più o meno consapevolmente, condotti ad un punto in cui il consumo di contenitori ha di fatto superato quello dei contenuti. Si vendono più lettori MP3 che dischi.. si fanno più soldi coi Televisori al plasma che producendo Film.
ATP: Nel testo di presentazione, ti/ci poni una domanda: cosa succede se lo schermo dello smartphone che teniamo in tasca non mostra più le immagini? se il nostro computer rifiuta di accendersi? Che risposta ti sei dato?
RP: In linea di principio mi interessa di più pormi, e condividere con gli altri, delle domande più che azzardare risposte. Penso che l'arte se la cavi meglio coi punti interrogativi che con quelli esclamativi. In ogni caso, se può servire a capire di più di cosa sto parlando, posso dirti che una delle opere esposte è una video istallazione: Tatami (no matter where you are, you're always able to see the one you love), in cui le immagini promozionali dell'ultimo modello IPhone si alternano a quelle del video amatoriale di un tafferuglio – per alcuni giorni erroneamente interpretato dalla spampa occidentale come uno sciopero – che ha avuto luogo nello stabilimento di Taiwan della Foxconn. L'arresto della produzione dello smartphone per alcune ore è stato sufficiente per fare calare il valore delle azioni della Apple, cosa che di riflesso ha immediatamente colpito, indebolendole, le più importanti borse europee.
ATP: Che lavori esponi in mostra e come, a tuo parere, riflettono, rispondono o interrogano lo spettatore sulla complessità del termine 'display'?
RP: In mostra c'è una nuova serie di Broken Display. Immagini di schermi rotti di apparecchi elettronici raccolte su internet, stampate su feltro sintetico e su PVC trasparente, su cui sono intervenuto con dei colori a spray e che istallo appese a delle aste di bambù, come fossero degli asciugamani.. o delle tende. C'è il Tatami di cui ti parlavo prima, c'è una speciale carta da parati il cui soggetto è quell'immagine geometrica che serve per calibrare i monitor, il così detto screen test, privato dei suoi colori e quindi della sua principale funzione. Poi c'è un trittico, dipinto (da me!) con colori acrilici. Il soggetto anche in questo caso è lo screen test, questa volta però a colori ma accartocciato. Il titolo è: Cimento dell'armonia e dell'invenzione. E poi c'è una scultura. il suo titolo è Ciao.
ATP: Hai utilizzato per le opere, tecniche e materiali diversi. Tra le opere, anche una scultura di alluminio dalle sembianze umane. Qual'è il suo significato in relazione alle altre opere?
RP: Da sempre mi interessano i sistemi produttivi. Nel caso di questa mostra l'attenzione si concentra particolarmente sul lavoro. Quanto costa fare una cosa? Quanto tempo occorre per realizzarla? Quante persone/competenze concorrono alla realizzazione? La tappezzeria è stata realizzata in Olanda grazie un sito internet che offre stampe digitali di grandi dimensioni a costi contenutissimi. I Broken Display sono fatti per metà a mano da me e per metà grazie ad una macchina, plotter UV; le immagini degli schermi rotti sono state scattate da gente che non conosco e che verosimilmente mai conoscerò. Ciao, la scultura a cui fai riferimento,  è una presenza non umana nella mostra, un'androide, un spettatore virtuale, un fan fedelissimo che dall'opening fino alla chiusura della mostra starà li a guardare che tutto proceda per il meglio. Il nome lo ha preso in prestito dalla goffa mascotte di Italia Novanta. Il suo corpo è fatto di telai di bicicletta di alluminio realizzati in Cina e acquistati su Alibaba.com. È stato assemblato da me con l'aiuto di un artigiano a Berlino.
ATP: Ti sei messo a dipingere? In che senso intendi questa pratica artistica?
RP: Si, l'ho fatto! è da tempo che ci giravo intorno. Se ti ricordi nell'ultima mostra da Francesca Minini c'era già stato un avvicinamento. Allora però ad interessarmi maggiormente era l'idea di fare un quadro. Il punto non era la pittura ma lo statuto, i confini, le ragioni che stanno dietro il fare un quadro. Stavo cercando di comprenderle per riappropiarmene. Ma era ancora una riflessione sul "contenitore", sul display, su uno spazio circoscritto. Questa volta, con il trittico Cimento dell'armonia e dell'invenzione, ho voluto spostare l'attenzione sul "contenuto". Fare questo per me significa, da una parte emancipare la produzione dell'opera dal capitale di partenza e dall'outsourcing, dall'altra riappropriarsi di una disciplina appresa e praticata negli anni della formazione. Il titolo fa riferimento ai fogli quadrettati di Alighiero Boetti, il quale lo aveva a sua volta preso in prestito da una serie di composizioni barocche di Antonio Vivaldi. È una riflessione sul tempo che passa, e su quello che occorre per fare concretamente, con le proprie mani, una cosa; ma anche un invito a perdersi mentre si sta facendo una cosa, a non concentrarsi troppo sul risultato.