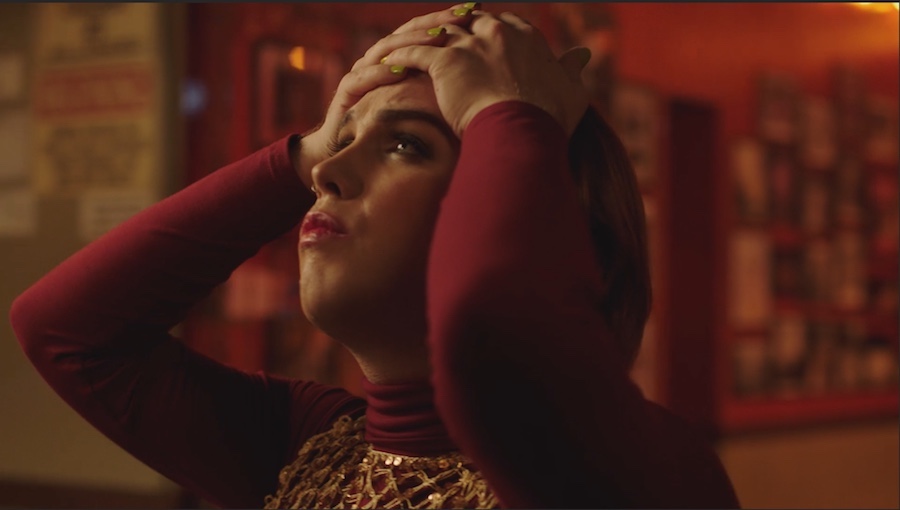 Written by Joana Maria
This year's DEMO Moving Image Festival is responding to the reality of a pandemic by bringing its program online. Amongst its titles Patrick Staff's Weed Killer (2017) elaborates on an approach to illness and cure that resonated with me given the current times we live in.
Patrick Staff's Weed Killer (2017) adapts parts of Catherine Lord's memoir The Summer of Her Baldness (2004) into a monologue. Lord opens an unconventional window to life with breast cancer, sharing e-mail correspondence from a fictionalised Her Baldness. In Weed Killer an actress performs a monologue which reflects on the devastating effects of chemotherapy, her footage is intertwined with clips of a queer dancer performing a lip-sync, and thermal images of both the actress and the artist. Piecing together the words and images of Weed Killer something stands out, Catherine Lord's and the dancer's bodies are being used as a battleground. The actress representative of Lord, battling breast cancer, sees her body transforming into an oncological war zone. At the same time, the queer performer uses their own body as a weapon in the fight for queer rights and visibility. They stand alone in the middle of a bar, borrowing Patrick Staff's words, and standing invisible even though they are performing in a public space. Similarly, the actress borrowing Catherine Lord's words elaborates on how cancer has made her invisible, only Her Baldness stands out.
Medicine is trained to identify abnormalities in the body, which can be symptomatic of cancerogenic cells. Blood samples are tested, white cells are counted, bumps are examined, and biopsies are performed in order to assess if there are any naughty cells trying to attack one's own body. Cancer is evil in that way, once a malign guest is set on destroying the body which carries it, time is of the essence. In western medicine, chemotherapy is one of the most common treatments for cancer in developed stages. Patients are subjected to heavy radiation which eradicates harmful cells, and along with them good cells fall victim of this violent treatment. Such an aggressive approach is debilitating, but in order to make sure that a system is left with its organs intact and operational radical measures need to be taken.
Chemotherapy is extraordinarily aggressive, Weed Killer's monologue elaborates on the crippling consequences from undergoing radiation therapy. In the actress's words curing cancer is as, if not more, painful as leaving it untreated. It seems to me that treating and addressing inequality is, also, inflicting as much pain to Patrick Staff as leaving their queerness undiagnosed. I could, in fact, go on and transpose this metaphor into the fight for any human rights, and taking this idea even further I would like to suggest systematic check-ups. Where there's a history of cancer in one's family, the common procedure is to regularly test offsprings for any signs of cancerogenic cells as it can be a genetic characteristic. Let's imagine that this would be the attitude towards any dangerous conglomerates spotted in any system. How wonderful would it be if entities with enough power to demand a cure were to perform full check-ups every time symptoms of illness are recorded. Imagine regular check-ups for residual colonialism in former colonial powers, or routine consultations in order to assess if malign individuals are multiplying and spreading.
Radiation therapy is still flawed, despite its aggressiveness it can fail. Sometimes cells spread too quickly and take over one's whole body, lodging in every single organ. A fast moving cancer often spells the end, there's no coming back from having an entire system failing one individual. Treating a fast moving cancer can be devastating, there's the chance or fear that it'll do more harm than good. It is overwhelming to see a full system turning against itself, and it may feel like there isn't enough radiation to eradicate evil. However, unless this self-destroying condition is terminal, there's always a radical treatment that can prove effective even in the darkest of times.