Dopo l'intervento di Marco Ceroni, presentiamo altri due artisti proposti dallo spazio indipendente 77/ – attivo a Milano dal 2015 – composto da Giulia Ratti, Alessandro Moroni, Nicole Colombo e Luca Loreti.
Overlaps, Correspondences, Contradictions is an installation that includes synthetic (fluorescent acrylic) and organic (carnivorous plants Nepenthes) matter. It engages with the reality of plants eating animals, something so incompatible with the rigid pyramidal organization of nature.
One of the basic scientific definitions that separates plants from animals, states that the former are autotrophs. They can produce their own food because they do photosynthesis. Animals are, instead, heterotrophs. They are unable to make their own organic molecules and so must eat plants and/or other animals.
Over the course of the exhibition, the artist performed gestures such as taking care of the hybrid creatures, watering them daily and feeding them with proteins (eggs). These operations refer to Darwin's experiments described in his Insectivorous plants (1875), the first written document proving that some plants share animal's behaviors. Other actions included reading excerpts from Eating Animals by Jonathan Safran Foer and fragments from a short poem written by the artist: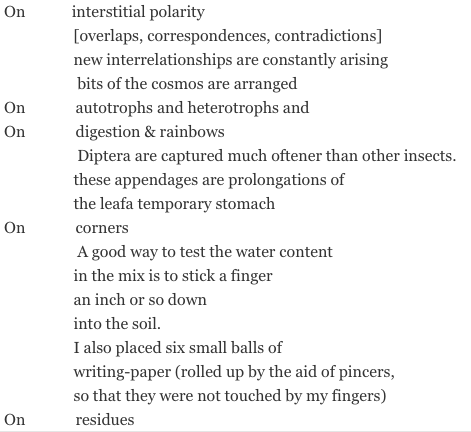 —
Mattia Agnelli —
Quando la gente scopre che vengo da quella che viene definita Heartland, il cuore del paese, so che mi posso aspettare l'una o l'altra di queste reazioni: meno male che sono scappata da un posto così conservatore, o quanto sono gentili quelli del Midwest. Nessuna di queste due affermazioni è necessariamente falsa, ma nessuna delle due mi convince che il mio interlocutore capisca la regione in tutte le sue sfumature: situazione che la cultura pop e la letteratura mainstream hanno fatto ben poco per cambiare.
Amanda Arnold 
Breve estratto dell'articolo "Why literature and pop culture still can't get the Midwest right" originariamente uscito per LitHub.com, tradotto da Martina Testa per edizionisur.it)